Details

Category: Photo Galleries
Published: Monday, 10 February 2014 08:02
Written by Lupe R Haas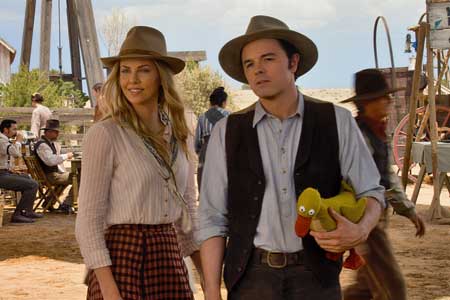 Seth MacFarlane finally comes out. The voice of "The Family Guy," "America Dad" and Ted gives himself the job of leading man for his next feature film, and he's assembled a noteworthy cast including a super hot leading lady. Watch the trailer for A MILLION WAYS TO DIE IN THE WEST including the character movie posters.
What can't be do? Seth MacFarlane, the multi-hyphenate Hollywood producer and voice of some of television's funniest animated characters is taking the next big step. He wrote, directed and is starring in A MILLION WAYS TO DIE, set in the Wild, Wild West. His on screen love is played by Charlize Theron along with Liam Neeson, Amanda Seyfried, Giovanni Ribisi, Sarah Silverman and Neil Patrick Harris joining the rodeo. And each actor gets their mug shot on a character movie poster. See below.
Seth MacFarlaine enjoyed great success with 2012's Ted as the voice of the talking bear and which he directed, produced and wrote. Now he's stepping in front of the camera as the lead in another comedy set in the West in which he plays a cowardly sheep farmer who is afraid of gunfights. When a new woman (Theron) enters the picture, he gains courage when the threat of her outlaw husband (Neeson) threatens their relationship. His new woman schools him in shooting a firearm to prepare him for the showdown.
A MILLION WAYS TO DIE IN THE WEST opens May 30, 2014. Trailer and character posters below.