Details

Category: Photo Galleries
Published: Wednesday, 30 July 2014 23:04
Written by Lupe R Haas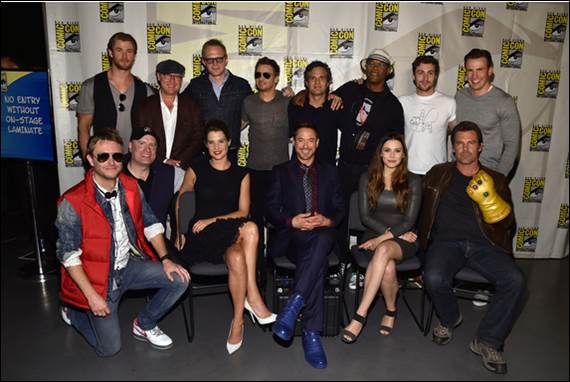 The Avengers reassemble for a sequel and they were out in force along with the cast of ANT-MAN for the Marvel Studios presentation at Comic Con in San Diego. Chris Evans, Robert Downey, Jr., Samuel L. Jackson,Chris Hemsworth, Jeremy Renner, Cobie Smulders, Mark Ruffalo, and many others were under the same roof. Glance through the Comic Con Marvel photo gallery with all the stars.
There was so much star power at Comic Con's Marvel presentation in San Diego that the screams in Hall H at the San Diego Convention Center were heard around the world. Even Paul Rudd he was overwhelmed with the fan reaction and star struck that he was hanging with the Avengers. Paul Rudd was there to promote his role as Ant-Man in the Marvel adaptation of the comic book which will also stars Michael Douglas, Corey Stoll ("The Stain), Evangeline Lilly and Michael Peña. Everyone except for Peña was there.
From AVENGERS: THE AGE OF ULTRON team, returning cast members were all there with their new co-stars Aaron Taylor-Johnson, Elizabeth Olson, James Spader and Paul Bettany. One Avenger was missing in action. Mom-to-be Scarlett Johansson wasn't at this year's Comic Con. James Brolin was the only cast member from "Guardians of the Galaxy"
Take a look at the photogenic Marvel stars in this photo gallery.