Win It!
Details

Category: Reviews
Published: Saturday, 08 July 2017 18:02
Written by Lupe R Haas
The SPIDER-MAN: HOMECOMING might look a lot different if it weren't for Marvel putting its footprints all over the sixth film in the Spider-Man universe. The Marvel intervention may have never happened had it not been revealed through the 2014 cyber attack by the North Koreans that Sony and Marvel were in discussion on teaming up on the next Spider-Man movie and bringing it into the MCU, but nobody had pulled the trigger. The public pressure after hearing of the leaked emails between the two studios probably convinced Sony to bring Marvel into the fold.
Tom Holland's introduction as Spider-Man in AVENGERS: CIVIL WAR was a genius idea that payed off by building excitement that this new incarnation would be different than the last five movies, and introduce us to a new and improved Spider-Man. Besides that, here are five ways Marvel shaped SPIDER-MAN: HOMECOMING.
Here's Why The 'Spider-Man: Homecoming' Cast Is Excited to Finally Share Film
1. Tony Stark Influence
Who doesn't love the narcissistic billionaire superhero. Stark Industry gadgets and toys make Spider-Man's new suit unlike anything we've ever seen. I always had a hard time understanding how a high schooler like Peter Parker could make a high-tech suit with his own web slingers, but in HOMECOMING, it makes total sense that a tech genius provides the necessary tools for this teen superhero.
2. Alien Technology
Luckily there are no alien villains in the Spider-Man reboot. The Marvel Cinematic Universe have exhausted that outer realm threat enough times.

However like other MCU films, there are consequences to the NYC battle that took place in the first Avengers movie. The villain of the Vulture played by Michael Keaton is born out of being screwed over by Stark Industries when his company loses the job of cleaning up NYC after the attack to Stark's latest venture.
The alien remnants from the attack is a common thread in Marvel movies. Marvel's first "One Shot" short film, ITEM 47 centered on a couple who find a Chitauri weapon and use it to start robbing banks while SHIELD is in their trail. In AVENGERS: AGE OF ULTRON, Robert Downey, Jr's Tony Stark uses some of the alien technology and his experiments lead to trouble in the form of Ultron.

In HOMECOMING, the past events are all linked to SPIDER-MAN's new adventure. While not entirely original, for a Spider-Man movie, it makes it standout among the previous 5 films. It actually makes you forget about the predecessors except for one scene that pays homage to the first Sam Raimi film.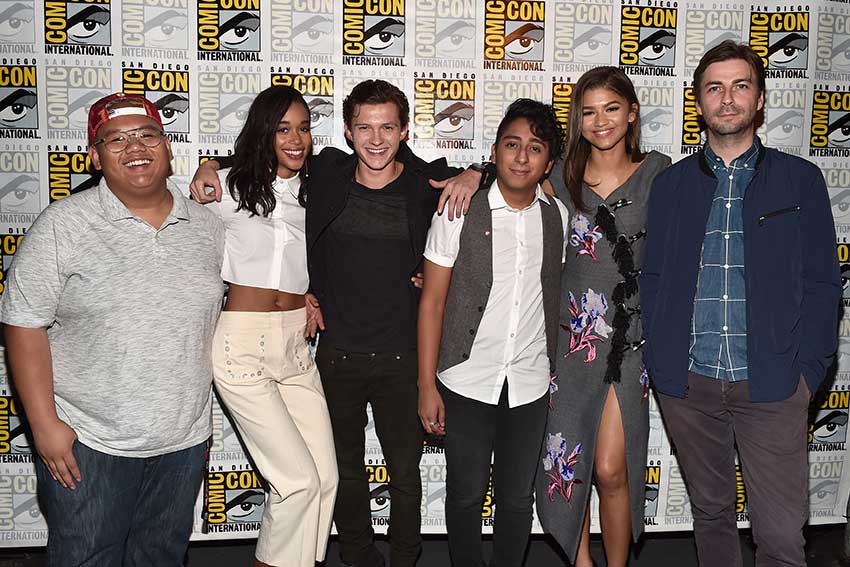 3. Comedy
Marvel knows exactly how to interject humor and great one-liners without taking off the edge off during intense action scenes.

Rebooting with a much younger Peter Parker in a high school setting didn't sound ideal for us old-timers but HOMECOMING used that culture to its advantage. The result is a funny take on high school life as seen through a teen superhero's eyes. Not only is he coming into his own as a teen, but he has the extra pressure of proving to Tony Stark that he can play with the big boys.
4. Ensemble Cast
Everyone gets their day in the sun in Marvel movies. Usually with a large cast, the supporting characters get lost in the shuffle and end up playing token characters like the sidekick. AVENGERS: CIVIL WAR did an amazing job of giving every character a voice and equal impact in the story.

In SPIDER-MAN: HOMECOMING, while not everyone has a standout role, Tom Holland is clearly the star and his BFF Ned (Jacob Batalon) who is a great addition, not just as the sidekick but as someone Peter will need to fight crime and future villains. Unlike the other movies, Spidey now has a confidant to share his adventures which is a nice touch.
Zendaya's role while funny as the tomboy smart-aleck, her character doesn't do much here, but it's an obvious set up for sequels.
5. Villain
Now this is one area where the Spider-man movie stays in tradition with previous SPIDER-MAN movies and comic books.

An ordinary man or scientist with good intentions is perverted at the idea of superhuman strength or motivated by revenge for a personal injustice.

The Vulture has much in common with Electro, the Green Goblin, the Lizard and Doc Ock than prior Marvel nemesis'. Clearly Marvel respected that tradition but added a different motivation.