Details

Published: Friday, 31 December 2010 10:46
Written by Lupe Haas

BIUTIFUL takes place in the underworld of modern Barcelona, Spain where illegal immigration is a problem for local authorities. Javier Bardem is UXbal, a single father struggling to support his two children while dealing with his bipolar ex-wife. Uxbal is a conflicted man who makes a living dealing cheap labor. He also moonlights as a ghost whisperer who can communicate with the recently deceased for money. His guilt of using African and Chinese immigrants for profit haunts his soul. To make up for it, he helps out the undocumented workers who considers friends but it leads to serious consequences for everyone. When he is diagnosed with terminal cancer, his life takes on a different meaning and he becomes even more desperate to leave his children and immigrant friends in a better place. The title of the movie comes from his daughter's drawing in which she misspells 'beautiful.'

Javier Bardem won the Oscar for Best Supporting Actor in the Coen Brothers' No Country For Old Men playing a stoic killer with the same expression throughout the film. In BIUTIFUL, his unique facial features express a range of emotion. The viewer can feel and sympathize with his pain and guilt along with him because of his brilliant acting. Known for his English language films (Vicky Christina Barcelona, Before Night Falls), the Spanish language BIUTIFUL exemplifies his power as an actor in either language. Javier Bardem definitely deserves another Academy-Award for this role.

His co-stars equally rise to the challenge. First-time child actors Hanaa Bouchaib and Guillermo Estrella play his children so well and with natural emotion, it seems as if we're intruding into a real family. The actress portraying Uxbal's ex-wife is equally played with rawness by Spanish actress Maricel Alvarez whose unique features make her stand out.

While BIUTIFUL is raw and sometimes depressing, Alejandro Gonzales Iñaritu's telling of the story lives up to the movie's name. The Mexican director's style is intact but he returns to the look and feel of Amores Perros with the dark greenish colors in the cinematography. While the director's previous work in Babel and 21 Grams had some grittynes to it, it was definitely more polished than his earlier work. This marks his return to independent filmmaking at its best.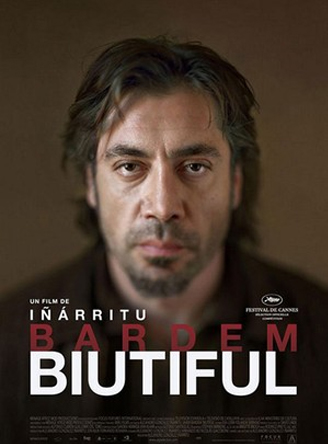 BIUTIFUL is Iñaritu's first film not written by long-time collaborator Guillermo Arriaga (Babel, 21 Grams, Amores Perros) whose signature storytelling-style included multiple storylines with numerous characters whose lives eventually intertwine. Iñaritu along with writers Armando Bo and Nicolas Giacabone deliver a thought-provoking and emotional story that follows one man's journey to provide for his family by compromising his own values. The Mexican director is the ideal filmmaker to bring to light the immigration problem from a different perspective without the judgements and political views that dominate American films about illegal immigration.

BIUTIFUL epitomizes great filmmaking with its story, acting, and visuals which bring to life a tale of survival. While the film is enthralling and Bardem's acting is superb, the third act drags with its two-and-half hours running time when Uxbal desperately seeks a caretaker for his children as he nears death.

Regardless of its long running time, BIUTIFUL has an important story to tell with wonderful acting from the entire cast -- this is a must-see.

BIUTIFUL is now in theaters in New York and Los Angeles and scheduled for a wider release January 28, 2011.