Details

Published: Thursday, 17 March 2011 18:16
Written by Lupe Haas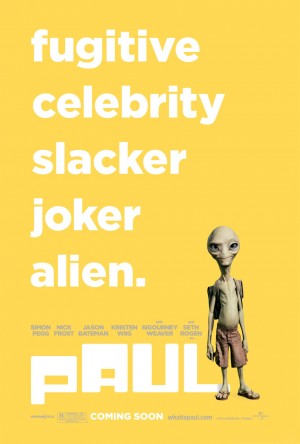 A little pot smoking alien voiced by Seth Rogen sounds like a silly concept for PAUL but the British comedians behind Shaun of the Dead and Hot Fuzz, once again provide a fun movie-going experience with a whole lot of laughs.
Simon Pegg and Nick Frost bring their brand of comedy to America with PAUL, a film written by the comedy duo. This time around, the Brits pay homage to the science fiction genre with references from every possible movie made about aliens including classics such as Star Wars, Aliens, Close Encounters, and E.T. The brains behind Shaun of the Dead take themselves out of jolly old England and take it to the western part of the United States for a hilarious send-up of an alien on the lamb.
Graeme (Pegg) and Clive (Frost) are two English science fiction fans visiting Comic Con in San Diego for the first time. Once they make their nerd rounds at the comic book convention, Graeme and Clive are off in a RV adventure across Nevada to visit Area 51 and UFO sighting locations. While on the road, they encounter Paul (voiced by Seth Rogen), a space alien who has escaped Area 51, who needs their help taking him to location where a space ship will return him home.

Justin Bateman is the man in black chasing the fugitives across the desert with the help of the always hilarious Bill Hader from Saturday Night Live and character player Joe Lo Truglia (Superbad, Role Models). Another SNL player Kristen Wiig comes along for the ride as a woman kidnapped by the alien and his human friends. Blythe Danner (Meet The Parents), Jane Lynch (Glee), Sigourney Weaver (Aliens, Avatar), David Koechner (Anchorman, Get Smart), Jeffrey Tambor and even Steven Spielberg make brief but hilarious cameos in PAUL.

At first you would think Seth Rogen's voice of Paul might annoy your senses but Seth managed to hold back his usual tone to give Paul a unique voice. However, the pot smoking, party animal mentality of Paul seemed to fit right in with Rogen's personality from Pineapple Express...without the whining.

Simon Pegg and Nick Frost made a very smart choice with this project by changing the setting to America and surrounding themselves with American comedians. The casting looks like they invaded SNL and a Will Farrell or Steve Carell comedy.
As with Frost and Pegg's two previous films, PAUL pays homage to classic genre films with some great one-liners borrowed from other movies. Even if you are not a science fiction movie buff, you'll enjoy the film but you will certainly feel left out when the audience go crazy over the references.
The funniest and boldest part of the movie which might offend Sarah Palin and Christians is the banter over religion and science. Frost and Pegg, obviously, have strong opinions over the subject matter as they dedicated some funny lines to discounting the Christian beliefs... all in good fun of course. Another group which could find offense with the characterization is the Geeks themselves. However, Pegg and Frost, self-admitted nerds themselves, respectfully portrayed science fiction fans without being overly critical and joking at their expense...except for the running gag over being gay buddies. Nerds will be proud.

Thankfully, the American setting In PAUL didn't take away from the British wit we enjoyed in Shaun of the Dead and Hot Fuzz but they certainly injected it with humor Americans can appreciate. The story is simple and the laughs are plenty with a clever script and fantastic characters.
The CGI work on Paul looked great and added to the illusion that he was real in that reality. The end sequence, however, didn't impress with a certain object (won't give it away), looking rather low-budget but all was forgiven because of the final pay-off.

PAUL was so much fun watching, that a repeat viewing is in order. A definite must see.