Coming Soon
Details

Category: Reviews
Published: Tuesday, 06 October 2015 15:47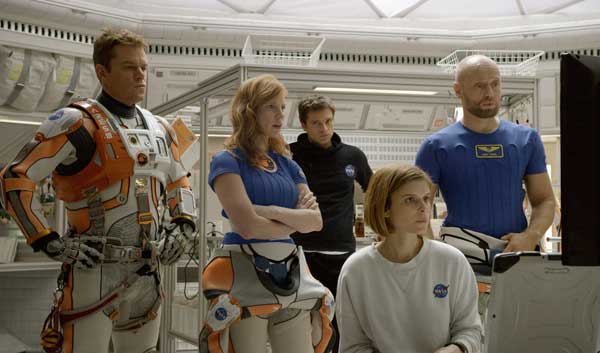 Ridley Scott's THE MARTIAN starring Matt Damon, Jessica Chasten, Kristen Wiig, Kata Mara, Michael Peña and Sebastian Stan seems to be a hit with critics and audiences alike. Here are five reasons why we loved this sci-fi adventure.
Matt Damon is astronaut Mark Watney, a man left on Mars unintentionally by his crew after a dust storm. Drawing on his MacGyver-esque skills, he manages to survive the brutal climate and figure out how to grow food as he awaits for his fellow Earthlings to figure out how to rescue him.
5. Science for Dummies
THE MARTIAN may make you feel like one big dummy when it comes to aerospace engineering. Mark Whitney survives because of his knowledge of science and his speciality in botany (scientific study of plants). Luckily for the viewer, the science is dumbed down for the viewer and put in simple terms we can all understand. However, it makes you realize how intelligent these people at NASA and JPL have to be to send humans into space.
Science plays a big part in the film, and personally, I found it intriguing that the film could be so entertaining and informative at the same time. Hopefully it will inspire young adults to choose a career in the science field.
4. Right Mix of Drama and Comedy
Astronaut Mark Watney's relies on his sense of humor as part of his survival, but the script never goes for laughs just for the sake of it. Instead it provides a bit of levity to the urgency of the situation.
3. Ridley Scott's Comeback

Ridley Scott's last three movies had some of his fans scratching their heads with less than stellar performance from the director's chair with Exodus: Gods and Kings (2014), The Counselor (2013), Prometheus (2012). From a personal perspective, faith in the man behind Blade Runner, Black Hawk Down and Gladiator was dwindling. However, THE MARTIAN is almost a masterpiece that more than makes up for his last three failures.

2. Girl Power & Diversity

Hollywood movies rarely get it right when it comes to diversity, but in THE MARTIAN, the faces reflect reality especially in the female department. Typically we get one good female role per picture, but in THE MARTIAN, you have four smart and capable women manning Mission controls. Jessica Chastain is Captain of Hermes while Kate Mara runs the ships diagnostics. At NASA, Kristen Wiig is the nervous public relations person and Mackenzie Davis ("Halt and Catch Fire") is a mission controller who discovers Whatney is still alive. Of course the author of THE MARTIAN, Andy Weir gets all the credit for including women in an important roles, but Ridley Scott, however, is no stranger to working with multiple female characters (Alien, Prometheus).
The rest of the cast also reflects diversity with Michael Peña, Chiwetel Ejiofor and Donald Glover's characters contributing their scientific minds to the cause. Outside of NASA, the Jet Propulsion Lab also represented those faces you'd probably actually find at the spacecraft-building laboratory.
1. Matt Damon Shines
Matt Damon may have annoyed a few fans with his most recent controversial comments, but they'll soon forget his open-mouth-insert-foot moments after watching his portrayal of Mark Watney. You can't help but like Damon's wisecracking character in THE MARTIAN. He's determined to survive, and you believe his character is smart enough to do so. His character goes through a range of emotions, and Damon pulls off playing out all those emotions from optimistic to downtrodden. Damon is a consistent performer in that there are no bad acting roles under his film credits.
RELATED ARTICLES
Interview: Kristin Wiig, Sebastian Stan, Kate Mara, Chiwetel Ejiofor Talk The 'Martian' at NYC Premiere
Watch New 'The Martian Trailer' and Star Matt Damon Visits NASA
'The Martian' Clip: Do They Have the Right Stuff?
Matt Damon in THE MARTIAN New Movie Poster and Trailer
Top Sci-fi Comedies: Photo Gallery