Details

Last Updated: Saturday, 11 June 2016 20:17
Written by Lupe R Haas
The brand new series tells the story of Princess Elena, a bold, caring, funny and clever 16-year-old who is ascendant to the throne in the fairytale kingdom of Avalor. The series follows the story of Elena, who saves her kingdom from an evil sorceress and must now learn to rule with the support of her appointed Grand Council and some magical friends by her side. Elena's adventures will lead her to understand that her new role requires thoughtfulness, resilience and compassion, the traits of all truly great leaders, while highlighting the importance of family and family traditions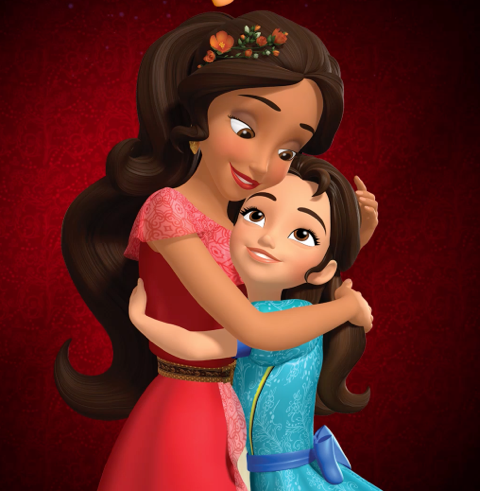 Princess Elena of Avalor will make her royal debut in the highly anticipated animated series "Elena of Avalor," with a one hour premiere event FRIDAY, JULY 22 (7:00-8:00 p.m., EDT) on Disney Channel. The theme song is performed by Gaby Moreno, Latin Grammy Award winner for Best New Artist, and Elena's anthem "My Time" is performed by Aimee Carrero.
Set in the enchanted fairytale land of Avalor, the series tells the story of Elena, a brave and adventurous teenager who has saved her kingdom from an evil sorceress and must now learn to rule as crown princess until she is old enough to be queen. Elena's journey will lead her to understand that her new role requires thoughtfulness, resilience and compassion, the traits of all truly great leaders.
The stories incorporate influences from diverse Latin and Hispanic cultures through architecture, traditions, food and customs. Magic, mythology, folklore and music also play an important role, with each episode featuring original songs spanning an array of Latin musical styles including Mariachi, Latin Pop, Salsa, Banda and Chilean Hip Hop.
A full-length preview of the first episode, "First Day of Rule," will be available for verified users on the Disney Channel app and Disney Channel VOD platforms beginning Friday, July 1.
Following its U.S. debut, the series will roll out globally in 33 languages in 163 countries on Disney Channels worldwide.
In the first episode, Elena officially becomes crown princess and rescues her sister, Isabel, from Noblins, elf-like shapeshifting creatures based on a Chilean peuchen myth. The episode also introduces Zuzo, Elena's spirit guide in the animal world, based on the belief of a Mayan tribe in southern Mexico. In the second episode, titled "Model Sister," Elena is torn between a promise she made to help Isabel and fulfilling her royal duties.
This fall, Disney Channel will air a special TV movie titled "Elena and the Secret of Avalor," which explains how Elena was imprisoned for decades in her magical amulet and eventually set free by Princess Sofia of Enchancia.
Extensions for the series include Disney Parks & Resorts, which will welcome Princess Elena at Walt Disney World Resort this summer and at Disneyland Resort in the fall; print and e-book titles from Disney Publishing; and dolls, role-play products, accessories, home décor and apparel from Disney Store and licensees including Hasbro, Jakks Pacific, Franco Manufacturing and Children's Apparel Network. Products will begin setting later this month at Disney Store and will continue to roll out at mass retailers throughout the summer. Walt Disney Records will release Elena's anthem titled "My Time" as a digital single on iTunes Friday, June 24, followed by a six-track EP featuring songs from the series on Friday, July 22, and Disney Studios will release an episode compilation DVD later this year.
"Elena of Avalor" stars Aimee Carrero as the voice of Elena; Jenna Ortega as Princess Isabel; Chris Parnell, Yvette Nicole Brown and Carlos Alazraqui as the jaquins Migs, Luna and Skylar respectively; Emiliano Díez as Francisco; Julia Vera as Luisa; Christian Lanz as Chancellor Esteban; Jillian Rose Reed as Naomi; Joseph Haro as Mateo; Jorge Diaz as Gabe; Keith Ferguson as Zuzo; and Joe Nunez as Armando.