Details

Category: Television
Created: Friday, 14 July 2017 08:38
Published: Friday, 14 July 2017 09:06
Written by Lupe R Haas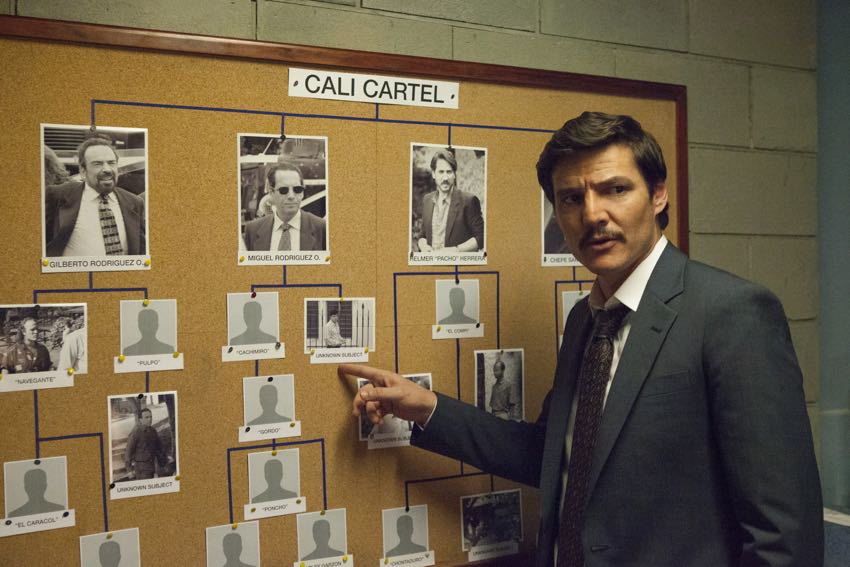 Now that Pablo Escobar is dead, the Agent Peña (Pedro Pascal) has more fish to fry in the third season of Netflix's NARCOS. Netflix has released a new announcement video, photos and the plot for the new season which premieres globally on September 1. Aside from Pascal, familiar faces return as they battle to take over where Escobar left off.
"Agent Peña, how much do you know about the Cali Cartel?" In a post-Pablo Escobar world, those final words spoken in the last season of the Netflix Original Series "Narcos," foreshadow the upcoming season's pivot into the corrupt, powerful, and wildly profitable world of Colombia's Cali Cartel-the biggest drug lords you've probably never heard of. Now that the bloody hunt for Pablo Escobar has ended, the DEA turns its attention to the richest drug trafficking organization in the world: the Cali Cartel. Led by four powerful godfathers, this cartel operates much differently than Escobar's, preferring to bribe government officials and keep its violent actions out of the headlines. Just as Gilberto announces a bold plan to walk away from the business, DEA agent Javier Peña (Pedro Pascal) enlists the help of American and Colombian law enforcement to take it down. This season opens up a complex and ruthless world of new figures.

Here is your first look at the Cali Cartel and the official date announcement video for season 3 of Narcos.

Meet the Kings:

Gilberto Rodriguez Orejuela (Damian Alcazar)- leader of Cali Cartel, "boss of bosses"
Miguel Rodriguez Orejuela (Francisco Denis)- the brains behind the rise of the of Cali Cartel and Gilberto's brother
Pacho Herrera (Alberto Ammann)- the on-the-low hitman, runs the Mexican connection and international distribution
Chepe Santacruz Londono (Pepe Rapazote)– runs the satellite NYC empire of the Colombian drug network


Other new players include:
Jorge Salcedo (Matias Varela)- Cali's head of security who prioritizes his wife and kids' protection over his bosses
DEA agents Chris Feistl (Michael Stahl-David) and Daniel Van Ness (Matt Whelan), who enter the operation with enthusiasm and inexperience
Franklin Jurado (Miguel Angel Silvestre)- the cartel's money launderer who unknowingly puts his wife, Christina (Kerry Bishe) in mortal danger
David Rodriguez (Arturo Castro)- Miguel's oldest son, who is reluctant at first to take a leading role in the cartel structure