Coming Soon
Details

Category: Television
Published: Wednesday, 26 September 2018 09:15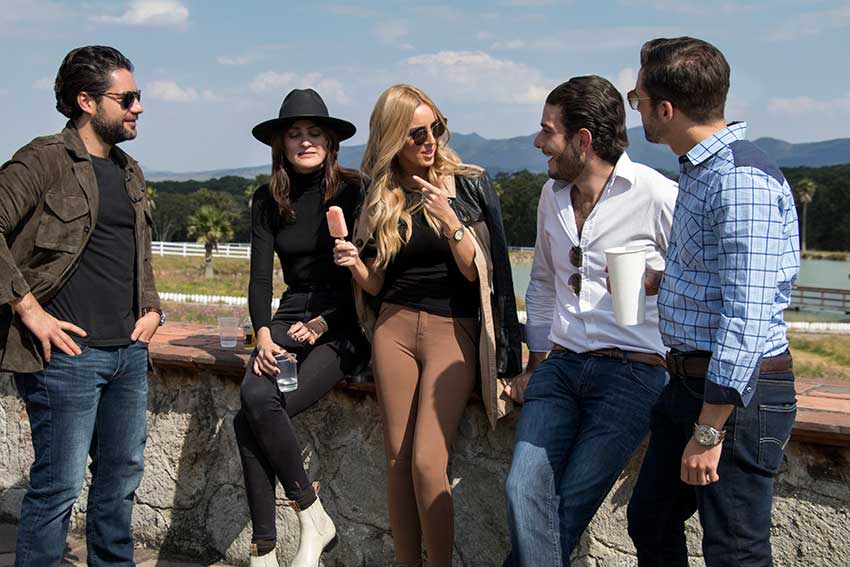 At first glance at the trailer, Netflix's new series "Made in Mexico" may look like a Mexican version of "The Hills" or "Rich Kids of Beverly Hills," but the reality stars say it's far from the life of spoiled rich kids. While the show synopsis describes the nine stars as elites of Mexican high society, the show's Roby Checa, Kitzia Mitre and Columba Diaz state otherwise.
"Made in Mexico," a 10-part series, follows the lives of nine well-to-do socialites living in Mexico City. The cast includes Carlos Girón Longoria, Chantal Trujillo, Columba Díaz, Hanna Jaff, Kitzia Mitre, Liz Woodburn, Pepe Díaz, Roby Checa and Shanik Aspe. Some are from famous families while others are self-made and successful entrepreneurs.
Despite the trailer suggesting we're getting a variation of the reality show format which often contains cat fights and hurling flying objects at each other, three of the show's stars say the bilingual show is much more relevant. CineMovie chatted with fashion designer Kitzia Mitre, fashion model Columba Diaz and the black sheep of the show Roby Checa.
"The show is not about a group of people who are elite," Roby tells CineMovie. "It's more real and doesn't have a script. There are real situations and it touches real themes. It's our life and things we suffer from and fights we have within the family and work. So it's not a show about elites but nine people who talk about their lives."
Model Columba Diaz also doesn't consider herself an "elite."
"I don't consider myself a part of an elite. Everything I have I worked hard for it. I haven't inherited anything from anyone. My parents are blue collar workers, I work, they work, and I provide for them."
Kitzia Mitre can attest to the fact that Columba is a hard worker. She tells CineMovie Columba moved to Mexico City on her own as a 14-year-old and worked hard to become a well-known fashion model. That's how she and Columbia met working in fashion.Kitzia also makes it clear she's not a rich kid. The designer built her business from the ground out without help from her parents.
Kitzia is the one who brought together her friend Columba and brother-in-law Roby to "Made in Mexico." She had been looking for a project to attach herself too. Columba signed on because she wanted to be part of a show that would present a different side of Mexico.
"It's really not about rich kids," says the model. "It's about seeing Mexico, understanding the culture, the traditions of our country through nine pair of eyes. We all have different view points."
While everyone on the series are proud Mexican citizens, "Made in Mexico" also establishes that like the United States, Mexico is a country of immigrants. While they all consider themselves 100% Mexican, they all have different roots. Roby's family, for example, Lebanese immigrants. "There's no prototype," says Roby. Kitzia adds "race" doesn't exist. "We all came from the same place, referring to the fact that all humans originated from Africa. "We're all human. That's it."
The cast feel "Made in Mexico" is a good chance to represent Mexicans in a positive light after Mexico and Mexicans have taken a hit from the current U.S. administration.
"Its completely absurd. We're all one," says Katzia about the conversation going on in America."
Columba breaks out into song "We are the World" after Kitzia impassioned statement.
Mexicans came together and showed solidarity after the major 2017 Mexico City earthquake which brought many together in the rescue efforts. The tragedy moved Columba to action as well, and on the show, she organizes a charitable event to raise funds for the survivors. She learned a valuable lesson from that tragedy.
"If we unite together. We're stronger. We forget as humans that we have you and you, nothing's going to keep us back. In Mexico, we have to realize that. We're in a suppressed place, and we forget how strong we are."
It being a reality show, there will also be drama between the cast members, but it won't come down to physical violence.
"There won't be hair pulling," according to Columba. "No one's going to throw a glass of wine. For the most part we're educated."
It will get ugly but in a different way.
"We're not saying there is no conflict but it's a more Machiavelli sort of conflict," says Kitzia. "The real cat-fights between women aside from a spilled wine that eventually dries up, it's much more stronger. Emotional warfare is much harsher."
Speaking of emotional conflict, Kitzia admits she's a straight-shooter, and she does not hide her dislike of Roby's mother and her mother-in-law. Roby's mom also doesn't hide her distaste for her daughter-in-law but it's no secret, according to both.
It doesn't bother Roby the friction between both the women in his life. He's got his own demons to contend with on the show including a problem with alcohol. The show captured him at his most vulnerable, and sometimes he didn't feel comfortable filming those moments.
"I wanted to quit everyday. The producers talked me out of it by telling me 'if you're not exhausting yourself emotionally than you're not doing a good job. To be real, you have to be completely open.' It was a challenge."
The three stars reveal the producers kept them away from dailies, and as of our sit down with the "Made In Mexico" stars had not viewed the show until the trailer premiered on the day of our interview. They were happy with the new preview, but they are nervous how they will be portrayed in the 10-part reallty series.
When asked if they would do a second season, Roby definitely is not interested, but for Columba and Kitzia - it's a wait and see deal.
"Made in Mexico," the Netflix reality series debuts globally on September 28.