Details

Category: Interviews
Created: Thursday, 18 March 2021 15:14
Published: Thursday, 18 March 2021 15:14
Written by Lupe R Haas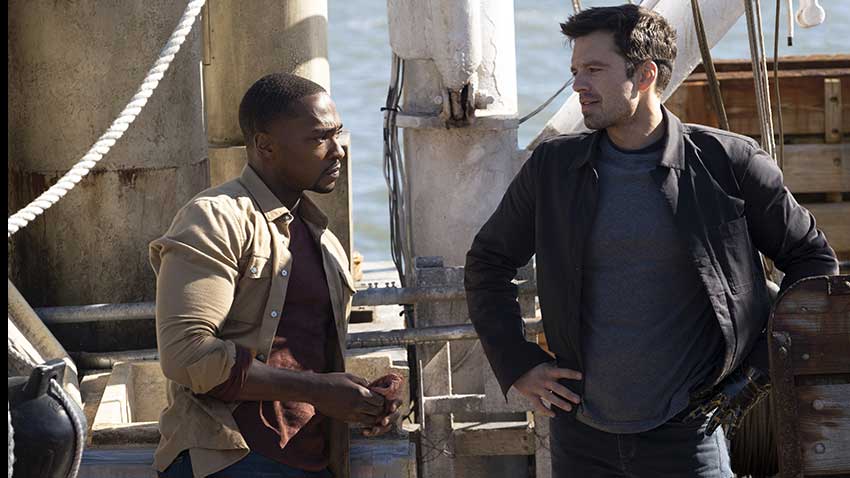 New and old MCU villains make their way into Disney+'s The Falcon and the Winter Soldier. Bucky Barnes (Sebastian Stan) and Sam Wilson (Anthony Mackie) will be contending with antagonists that are a result of Thanos' actions, according to the head writer (Empire).
The events of The Falcon and the Winter Soldier take place after the Blip. Bucky and Sam are dealing with personal issues while saving the world. One of the villains is a familiar one. Daniel Brühl reprises his role as Zemo from CAPTAIN AMERICA: CIVIL WAR. We can assume that during the Blip, he either escaped imprisonment or he returned unscathed from The Snap. In episode one, a crew of masked thieves carries out a robbery. One of them has super abilities. Zemo is not among them, but we can assume he's behind this because of their masks.
Review: 'The Falcon and the Winter Soldier' Owns The Action
While their intentions are not clear, the head writer on the show dropped some hints recently during a press conference. Writer Malcolm Spellman (Empire) draws a direct line from these antagonists to Thanos.
"I think what worked out really nicely was where END GAME leaves off, says Spellman. "Thanos has created a situation or dispatching Thanos has created a situation where the entire world is dealing with one single issue which is very familiar to what's going on today. And everything is born from that. The villains in the series are responding to that. And in fact, every villain in the series would tell you either he or she is a hero. The heroes are responding to that in their personal lives. You know what I'm saying? And that A story plot, it was all born from one single organic thing. And just continuum from what happens. After END GAME that sort of galvanizes and affects everybody on the planet. At the same time, it creates a nice cohesion and direct lineage to the MCU."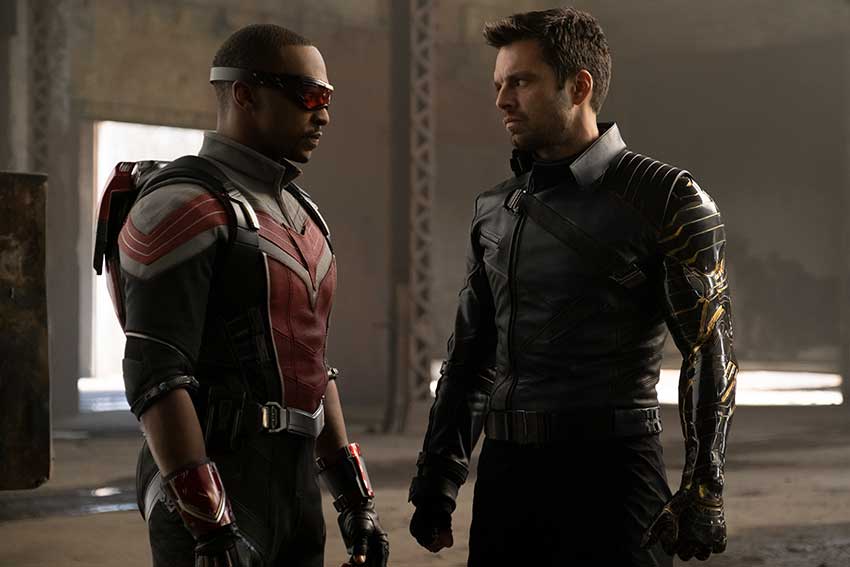 That also ties back to Brühl's Zemo in CAPTAIN AMERICA: CIVIL WAR. He thought of himself as a hero saving the world from the Avengers. He blamed their actions in AGE OF ULTRON for the death of his family, and many others who lost their lives during that devastation.
Furthermore, in episode one - a cameo by another Avenger warns that the world is very different since The Blip, and "our allies are now our enemies." In Marvel fashion, the setup leaves us with so many questions.
The Falcon and the Winter Soldier premieres Friday, March 19 on Disney+.