Details

Category: Interviews
Created: Wednesday, 07 February 2018 11:10
Published: Wednesday, 07 February 2018 23:09
Written by Lupe Rodriguez Haas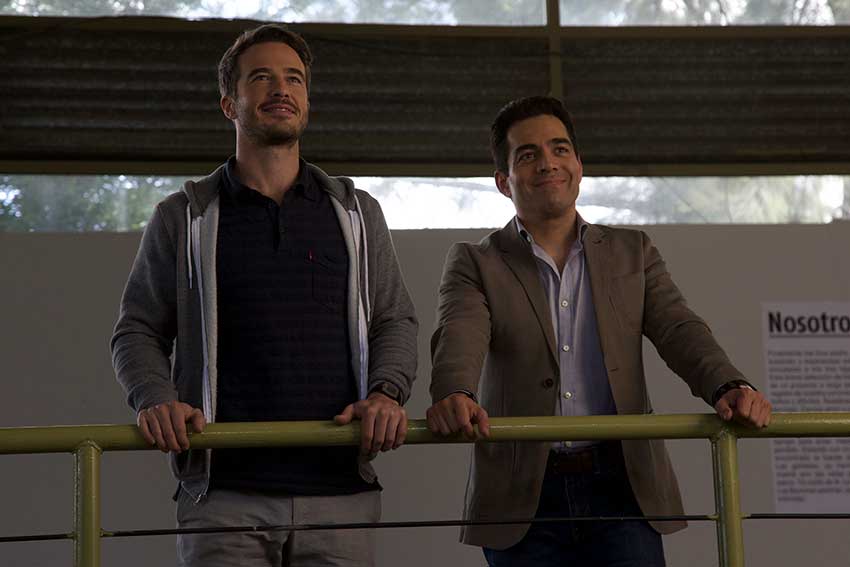 Actor Ryan Carnes ("Desperate Housewives," "General Hospital") didn't have to pretend to be a fish-out-water in Mexico City in the bilingual comedy, LA BODA DE VALENTINA. He experienced a similar journey as the character he plays on screen in the Mexican comedy. Acting opposite Marimar Vega and Omar Chaparro, the non-Spanish speaker was in for a big surprise when he landed in Mexico and found out the Mexican comedy was 90% in Spanish.
The 35-year-old actor from Pittsfield, Illinois went through the usual process of casting to land the role of Jason Tate, an American engaged to a Mexican woman (Valentina) whose scandalous family is a political powerhouse in Mexico. Living in Boston, Valentina must fly home to Mexico City to correct a problem that her family caused before she can say "I do" to Jason. Valentina's ex played by Omar Chaparro causes a riff between Jason and Valentina while in Mexico.
LA BODA DE VALENTINA production took Carnes to Mexico City for the first time. He had visited Mexican resorts before, but this was his first time experiencing the bustling capital of Mexico.
When the Hollywood actor first arrived, he was under the assumption the Mexican-produced film was entirely in English because of his English-language script. He tells CineMovie the funny story surrounding his realization that he wasn't in Kansas anymore. At the first unofficial table read with the Mexican actors, the group started to read lines in Spanish. He panicked and glanced at the other actor's script and noticed they were all in Spanish. He experienced a momentary freak out when he realized they might expect him to speak Spanish for his role.
"I stopped and I was like, 'wait a minute. Is this whole film in Spanish?" he recounts with a laugh. "I didn't know. It was really funny."
It all worked out, he says once they told him it was a bilingual comedy.
During the 8-week production, he, like his Jason character, went through a similar experience of being in a foreign land surrounded by a foreign language. He didn't understand a word coming out of his costars mouth, he went to a luchador match, played a Mexican drinking game, and like Jason, was startled at first at the constant fireworks and other noises in the city.
"It was actually helpful as an actor to have those experiences be real and authentic to the experience I was trying to portray on screen," he told CineMovie. "I did have a parallel journey as Jason did."
LA BODA DE VALENTINA's leading lady Marimar Vega helped Carnes acclimate to his new environment. He calls the Mexican actress "exceptionally talented" and "easy to work with." She also made him feel at home by taking him to night spots along with her friends and showing him around her city.
There are no drug lords or kidnappings in LA BODA DE VALENTINA. Unlike Hollywood productions or what American media portrays, the movie is a positive portrayal of Mexican life in the city. As an American actor, did his time shooting in Mexico make him think differently of Mexico and its people?
"In order to break stereotypes you have to have the prejudice to begin with. I can't say I went to Mexico with those prejudices," says Carnes. He adds, "I think anytime we have a chance to challenge those stereotypes, I think it's a really good thing. It's a very healthy thing for social progress."
He believes the Mexican comedy addresses some of those stereotypes in a light-hearted manner. He found the crew and actors to have a "really good sense of humor about themselves" and that shows up in the film.

Latinos especially Mexicans love giving nicknames to friends and family. So what was Ryan Carnes' term of endearment? He often got the "pinche gringo" or "guero" or "guerito" and of course, the production crew and cast teased him about his last name. Carnes in Spanish translates to "meat" and they didn't let him forget it. He didn't take any insult from it. "I whole-heartingly embraced it."
Ryan Carnes' apparently enjoyed the Mexican experience. He's currently working on another film in Mexico City.
LA BODA DE VALENTINA opens in movie theaters February 9.