Details

Category: Interviews
Created: Wednesday, 26 April 2017 16:34
Published: Wednesday, 26 April 2017 16:47
Written by Lupe R Haas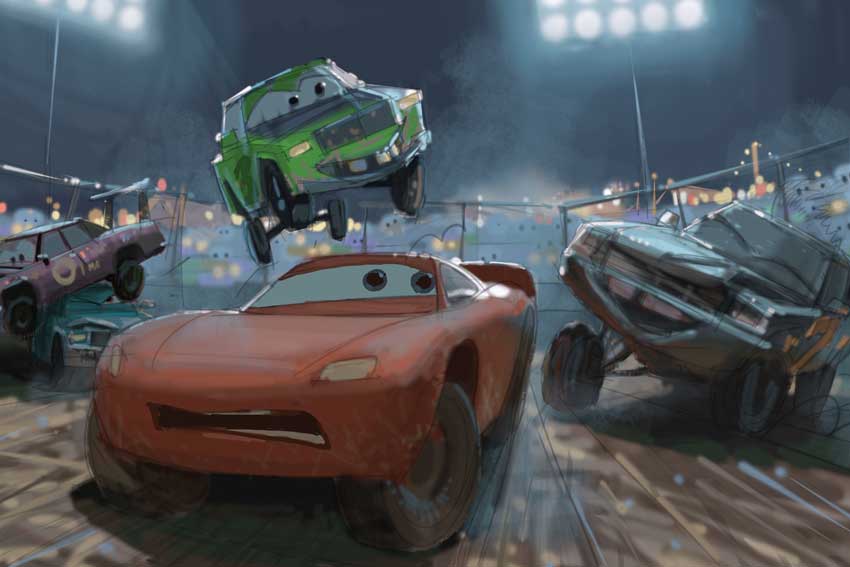 In CARS 3, Lightning McQueen has lost his mojo and he has to find it with help from a new character named Cruz voiced by Cristela Alonzo. Disney and Pixar invited CineMovie to Pixar Studios in Northern California for an exclusive look at the new CARS movie and we went behind the scenes with the animators and filmmakers at a nearby racetrack.(Photos below)
Lightning McQueen is off to a new adventure to rediscover himself in the third movie of the Disney*Pixar CARS franchise. A new trailer reveals McQueen's heyday is behind him, and everyone is urging him to retire from the racetrack. McQueen is ready to race back to the track, but after many setbacks he's struggling to keep up the confidence and his usual cocky attitude.
Disney*Pixar flew CineMovie to Pixar Studios in Emeryville, CA for a sneak peek of CARS 3. In the 40 minutes CARS 3 preview, McQueen loses confidence in himself as the race world becomes more technologically-advanced. He's feeling left in the dust after leaving Radiator Springs to join the corporate world of racing. He soon realizes he can't compete with the much faster, lighter cars.
McQueen meets a trainer named Cruz (voiced by Cristela Alonzo) whose job is to bring him into the new world of racing, but he can't keep up. Together they two embark on a journey to find McQueen's racing heroes in hopes of finding his way back to the top.
CineMovie was off to the tracks, literally, to talk to the animators, special effects supervisors, producers and director about bringing a more emotional CARS movie to life. After spending the evening at Pixar Studios for the screening and a lovely reception, the next day we were transported to the Sonoma Raceway in Sonoma, CA. While cars roared by on the racetrack, we were treated to presentations by the behind the scenes crew who put a lot of heart into CARS 3.
Lightning McQueen is much more vulnerable in CARS 3, and it's difficult to watch what seems like his downfall from glory. However, as a viewer you become much more invested in the continuation of Lightning McQueen's story. Owen Wilson reprises his role as the voice of McQueen, and he brings some serious gravitas and depth to the role of a character who finds himself in a much different place from the previous two movies.
CARS 3 writers Kiel Murray, Bob Peterson, Mike Rich and Story Supervisor Scott Morse explained to us the genesis of the idea for a comeback story. During our one-on-interview, Kiel Murray reveals the original idea came from the top.
"People just wanted an emotional McQueen story. People felt that it had been a long time since we checked in with McQueen and everyone and the studio was interested in that."
Writer Mike Rich (THE ROOKIE, SECRETARIAT) knows a thing or two about writing sports-related comeback stories, so he was recruited to write the script in 2014. Although they had a starting point with McQueen's downfall, story supervisor Scott Morse says the dilemma revolved around where this fan favorite would end up at in the end of the story.
They looked to the real world for answers. Car racing is a sport so essentially McQueen is the athlete at a crossroads in their career. While McQueen may be a talking car, they wanted his dilemma to be relatable.
"You try to find an undeniable human truth you want to talk about and then you analyze where does that occur in real life," says Morse. "You look at yourself. You look at your family and friends. Then you start looking at society and how it affects society. You look at bigger changes in the world."
The writers looked to sports figures for insight into the emotional trajectory of a person coming to grips with the end of their career. To bring it back to the world of racing, Pixar also brought in car experts Pixar Creative Director Jay Ward and former crew chief for Hendrick Motorsports Ray Evernham. While at the Sonoma Raceway, the two gave us a history lesson in stock car racing including the evolution of car design, stories of legendary drivers and how it all fits in with the new CARS movie. Evernham's experience on the raceway heavily influenced the racing Corvette's motivation for CARS 3.
"He got the racer's psyche.That was a big part of our film too was what was going on in McQueen's head", say Ward. "He worked with Jeff Gordon all those years. This is literally the guy who worked with Lightning McQueen. There was so much to pull from. Invaluable!"
Ward and Evernham also served as fact-checkers on CARS 3. CARS 3 delves into the history of stock car racing and pays homage to legendary stock car racers. As the creative director for Pixar, Ward ensures the car movements, tire spinning and anything related to cars is accurate. Given the multiple settings in CARS 3 which includes sand, beach, mud, reflective surfaces and highways, Ward had his hands full on this CARS outing.
Getting the visuals correct isn't the priority with Pixar films. Special effects team Michael Fong (Supervising Technical Director), Bobby Podesta (Supervising Animator), Jon Reisch (Effects Supervisor) explained to CineMovie that the visuals must match the "realness of the emotions." The technical part is the easy part compared to crafting a performance that's emotional.
"The thing that's the hardest for animators isn't something technical. It's trying to craft a performance that's really emotional," says Podesta. "Something that you forget you're watching a car and you feel you're watching a performance that's a reflection of you and the world, and to see yourself in. That's just the art form."
The attention to detail is astounding, and Pixar's exhaustive process and dedication to tell a very human story in a fantasy setting may be the reason for their tremendous success. Pixar films always seem to touch a nerve with us humans, and CARS 3 will certainly join that club.
Our CARS 3 adventure ended with a little research trip of our own at the Sonoma Raceway. The press took a joyride in a really fast car in a race against other cars at the Sonoma Racetrack. While exhilarating, fright did set in as the cars whipped around corners at a fast speed. "We're going to die!" was my first thought. Luckily we made it to the finish line in one piece.
CARS 3 zooms into movie theaters June 16.