Details

Category: Interviews
Created: Friday, 04 January 2019 15:21
Published: Friday, 04 January 2019 15:21
Written by Lupe R Haas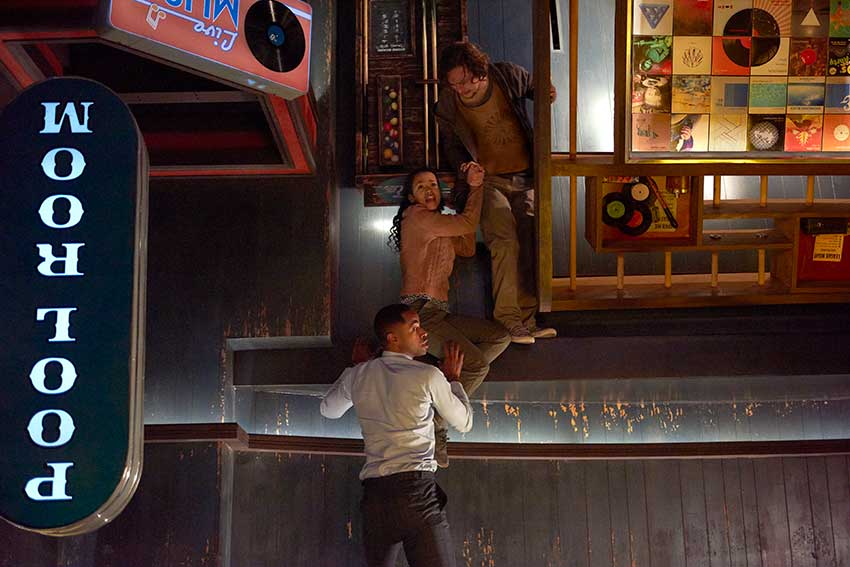 Someone was bound to make a movie about an ESCAPE ROOM where the consequences are real. ESCAPE ROOM, starring Deborah Ann Woll ("Daredevil"), Jay Ellis ("Insecure"), Taylor Russell ("Lost in Space") and Logan Miller (LOVE, SIMON) and directed ny Adam Robitel (INSIDIOUS: THE LAST KEY,) is a suspenseful movie with cool sets including an upside down one. Director Adam Robitel, Deborah Ann Woll and Jay Ellis discuss the challenges of working on that set.
One escape room in the movie, opening January 4, was a little too real for the actors. In ESCAPE ROOM, six strangers are invited to experience a mysterious game in an escape room worth a $1 million prize. The players must solve a series of puzzles that means life or death. Four men and two women soon realize they must survive a sadistic game together.
Deborah Ann Woll and Jay Ellis are two of the strangers in the game. One of the scenes required them to scale an upside down billiards room to find clues to their survival as floor panels disappear. That particular escape room was built exactly as seen on the big screen. The actors were crawling and scaling walls for real while wearing wire harnesses.
ESCAPE ROOM star Jay Ellis of "Insecure" fame found it a "fun challenge" hanging 15 feet off the ground. He reveals to CineMovie the falling floor panels did actually move out on the set. One of the actors had to rise to the occasion at an even higher altitude.
"And then from that 10-15 feet up on that platform which was our floor, it was probably another 20-25 feet up in the air that Deborah had to crawl," says Ellis.
The actors trained with the stunt team in a mini-room after taking lessons in rock climbing where they learned hand strength and where to place their feet. Ellis also trained in Brazilian jiu jitsu and worked out five days a week to get in shape for the physical role.
For Woll, that scene was a different kind of challenge. During our sit down with the former "True Blood" actress, she admits the action was frightening.
"It was fun. It definitely was very scary," says the "Daredevil" actress. "We really are leaping around. You don't have to do a lot of acting. You do your thing. At moments you feel bad ass and that's okay. And other moments you're terrified, and that's okay. I don't get to do that a lot."
Woll enjoyed her first real action scenes. She tends to play the brainy one who wears her heart on her sleeve so it was a welcome departure for her. In the thriller, she plays an army veteran suffering from PTSD. She tells CineMovie her character initially didn't have that background but it didn't make much sense for her character to be so heroic and agile without a good reason behind it. She credits the director with coming up with that past experience to explain her state of mind.
The upside down billiards room was a logistical nightmare for the crew, says director Adam Robitel. At first they weren't sure they could pull off the tricky set that required "a lot of safety precautions."
"The scaffolding alone that held the set looked like a massive alien built pyramid and everything had to be structurally engineered, says the director. "The set was a big fish bowl where you have four walls and so where do you put the camera and how do you get a techno crane in there when it's six feet of the ground."
Luckily they pulled it off and that scene in particular is one of the best escape rooms in the movie.
Catch ESCAPE ROOM now in movie theaters.