Details

Category: Interviews
Created: Monday, 20 December 2010 17:04
Published: Monday, 20 December 2010 17:04
Written by Lupe Haas
Most female-warrior-type characters in comic book and movies find themselves in slinky, tight leather suits playing vixens but actress Olivia Wilde pushed for her TRON: Legacy character to be less sexy and more child-like. Olivia Wilde considers herself lucky to have worked with the colloborative team behind TRON: Legacy. The writers were still formulating the Quorra character when she took on the role so the character was "up for grabs" to shape.
As Quorra, the butt-kicking Tron program created by Kevin Flynn (Jeff Bridges), Olivia Wilde colloborated with TRON: Legacy director Joseph Kosinski in creating a unique female character that was sexy yet innocent. The actress who can currently be seen opposite Russell Crowe in The Next Three Days, called the director six months before shooting began, to run by him her observations of who Quorra is. Wilde pitched Joan of Arc as a character that exemplified what Quorra needed to be for the TRON sequel. "Joan of Arc was this unlikely warrior, this child who led and army. Who had this very rare combination of strength and innocence," said the actress. She added that Joan of Arc had a connection with a higher power who led with compassion and selflessness. That was Quorra for Olivia. Director Joseph Kosinski agreed with her assessment. Olivia calls herself "lucky" to have worked with an open-minded director. "He was as focused in the creation of the characters as he was on the visual effects, that everyone knew would be stunning."
While playing a child-like warrior who doesn't use her power for seduction, the woman inside her is awakened when she rescues Sam Flynn (Garrett Hedlund) from the Grid gladiator games and takes a liking to him. Until then, Quorra was not aware of her sexuality even though she is "sexy despite herself," said the former TV House star. She has no "desire to seduce" and doesn't use that power to get her way.

Once Olivia Wilde established a Joan of Arc archetype in the Tron world, she also wanted input into creating the look of Quorra . While male-driven Hollywood loves fitting butt-kicking females in tight leather suits and long flowing hair, Wilde fought to stay away from being the "vampy sexy thing" seen too many times in movies. "It would've been so easy for her to be that with that suit and the sexy world of Tron itself. The suit itself is sexy. She doesn't need to be led by her sexuality on the inside." The tight-fitting lighted suits and high-heeled boots in the Grid had enough sex appeal for Wilde.
Exclusive Sneak Peek: TRON: LEGACY's Challenging Costumes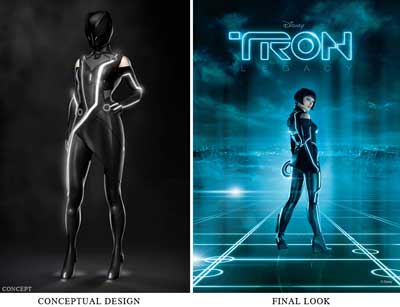 The TRON: Legacy star suggested another look for Quorra which Disney was not too thrilled about. She pitched the idea of being an androgenous figure or at least a tomboy. "The sirens are so sexy. You don't need anymore sexy girls in the movie," said Wilde. "You've got them in the movie. So maybe she could look like a boy." The New York-born actress says she was met with silence when Disney listened to the suggestion. While the production team was not gung-ho over the pitch, they worked with Olivia to come up with something close. Olivia was not wild about having long hair for Quorra. "Don't they have to fight? Isn't their hair in their face?" she said. The production team comprised and came up with the short bob with a punk rock flair.
Olivia succeeded in bringing out the child-like innocence while maintaining her sex appeal with her warrior-like skills. Fortunately she was able to exercise the same creative input with her next movie. Wilde stars in another highly-anticipated film next year opposite Harrison Ford and Daniel Craig in Jon Favreau's (Iron Man, Elf) sci-fi western Cowboys & Aliens.

Olivia Wilde can count herself one of the few lucky women in Hollywood taking control of her career and her characters.

TRON: Legacy is now playing in theaters.
INTERVIEW: Garrett Hedlund On Reaching Leading Man Status