Details

Published: Thursday, 20 October 2022 20:02
Written by Lupe R Haas
In the first cinematic adaption of the DC Comics character, Teth Adam is summoned after a 5,000-year imprisonment by the gods who bestowed him the powers. In Kahndaq, Black Adam is a mythic hero and a savior to the oppressed population of the fictional city, but Teth Adam isn't interested in saving anyone and will destroy anything in his path.
Other lesser-known DC comic characters are introduced with Aldis Hodge (One Night in Miami) as Hawkman, Noah Centineo ("To All the Boys I've Loved Before") as Atom Smasher, Sarah Shahi ("Sex/Life," "Rush Hour 3") as Adrianna Tomaz, Marwan Kenzari ("Murder on the Orient Express," "The Mummy"), Quintessa Swindell as Cyclone, Mo Amer ("Mo," "Ramy"), and Pierce Brosnan as Dr. Fate.
The standouts besides Johnson are Sarah Shahi as the tough-as-nails Adrianna Tomaz and Pierce Brosnan as Dr. Fate. While Dr. Fate doesn't have much of a backstory, it's Brosnan's acting skills that bring an emotional depth to his character despite no development.
Watch BLACK ADAM's Sarah Shahi & Mohammed Amer Interview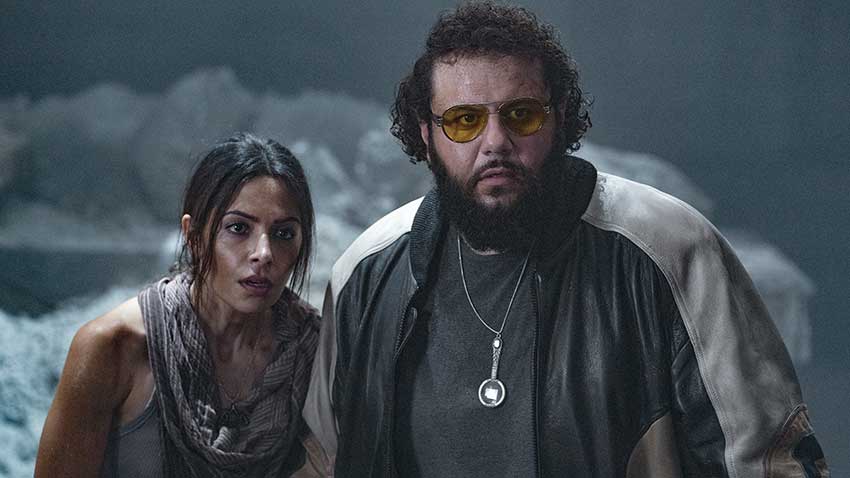 The introduction of the characters is a rushed job. For those unfamiliar with these DC characters like myself, there is barely any story behind these supporting characters. Instead, a single interaction is meant to fill in their stories, and move on with the action.
For example, Hodge is thrown in as if we should know who he is without much of a backstory. As the head of the JSA, Hawkman is one-dimensional with his sole purpose of capturing Black Adam.
Centineo and Swindell aren't well-developed either but they are likable merely for being young and naive. As Atom Smasher, Centineo is utilized for comedy purposes as he adapts to his new superhero capabilities much like Paul Rudd's Ant-man. Swindell's Cyclone is highly-intelligent but she's merely a backdrop. There was a missed opportunity to learn more about Hawkman through his mentoring of these two young superheroes, but he was just too busy barking orders to Adam instead.
Adrianna's son Amon (Bodhi Sabongui) is meant to be the one to tame the beast but it comes off like a copycat of Freddy (Jack Dylan Grazer) in SHAZAM! who doles out superhero tropes.
For those not well-versed in BLACK ADAM comic book lore, Collet-Serra establishes the origin story. The problem is that he sprinkles snippets of his backstory as a slave throughout the movie which disconnects you from the present. Much of it isn't needed. There's too much time in the past rather than bringing the character into the present and future.
BLACK ADAM is a bit claustrophobic with limited sets. The majority of the action takes place in a fictional Middle Eastern-looking city which becomes tedious. There's so much destruction like a Zack Snyder DCEU movie, it's a miracle anything is left standing. Hands-down the best action scene occurs in the desert as Black Adam decimates an army.
Director Jaume Collet-Serra and writers Adam Sztykiel and Rory Haines & Sohrab Noshirvani don't reinvent the superhero wheel but they provide a solid action movie. For those looking for a Dwayne Johnson action movie, BLACK ADAM delivers a relentless onslaught of action. The special effects are top-notch, and Johnson forgoes the charm to bring viewers a much darker character we're not accustomed to seeing him play.
Where it fails, however, is setting up a worthy entry into the DCEU. While a stand-alone movie, BLACK ADAM links to the past DCEU films on three occasions. As previously announced, Viola Davis reprises her role as Amanda Waller, who commands the JSA. Then there's another tie-in with the 2019 SHAZAM movie which I won't spoil.
BLACK ADAM is clearly meant to be a franchise but it's rather ambiguous to how Black Adam fits in in the DCEU. By the end, it feels like a one-off. Most viewers won't be clamoring for a sequel that is until the post credits. The credit scene should come as no surprise but is it merely fan service or an actual promise of what's to come?
BLACK ADAM is now in theaters.