Details

Category: Reviews
Created: Thursday, 13 August 2015 08:29
Published: Thursday, 13 August 2015 16:09
Written by Lupe R Haas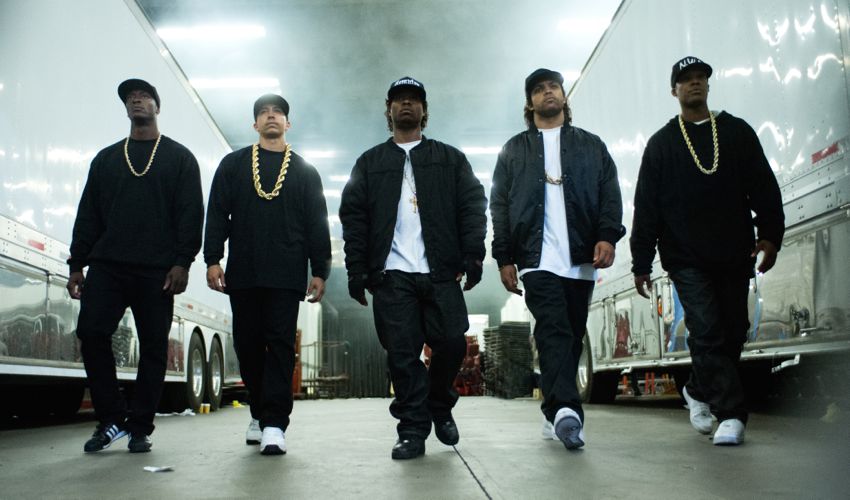 One doesn't go into a NWA biopic expecting to shed a tear or two, but STRAIGHT OUTTA COMPTON director F. Gary Gray delivers a story that hits on all the emotions from sadness, anger to light-hearted moments. STRAIGHT OUTTA COMPTON doesn't focus on the music rather on the friendship behind NWA and how fame ruined it.
The public perception, thanks to the media, labeled Ice Cube, Dr. Dre, DJ Yella, Easy-E and McRen as thugs and gangsters who glorified violence, but STRAIGHT OUTTA COMPTON presents a totally different picture of the rap group. It humanizes the young artists, and shows how music was a way out of the hood for these ambitious teens. NWA's music was also a way to vocalize their frustration with the injustices from police and the prejudice they faced as young black men. NWA's infamous song, "F*** The Police" was put into context during the movie in a powerful scene that evokes anger even from the audience point of view. While recording their album in Torrance, CA, the members of NWA are harassed by local police outside the recording studio simply because black men like them didn't belong in the largely white neighborhood. That powerful scene led to Ice Cube writing the lyrics to "F*** The Police," and who can blame him.
The actors portraying Ice Cube, Dr. Dre, DJ Yella, Easy-E, and McRen did a fantastic job capturing the young artists, and the brotherhood they formed. Ice Cube's son O'Shea Jackson Jr., Corey Hawkins (Dr. Dre), Jason Mitchell (Easy-E) are the heart of the movie, and the first time actors pulled it off seamlessly especially in two of the most emotional scenes in the movie, that had this viewer shedding a tear or two.
STRAIGHT OUTTA COMPTON works because the film is layered with different universal themes from friendships, rags to riches story to a David vs Goliath theme thanks to director F. Gary Gray. Gray has become the expert at creating great ensemble pieces with films like Set It Off (Queen Latifah, Jada Pinkett Smith), Be Cool (John Travolta, Dwayne Johnson) and The Italian Job (Mark Wahlberg, Jason Statham, Charlize Theron) under his belt. Ice Cube gave Gray his first shot at feature film directing when he encouraged him to direct Friday (1995), a film Ice Cube wrote himself. Without Gray, STRAIGHT OUTTA COMPTON may have been a different type of movie.
STRAIGHT OUTTA COMPTON opens August 14.
RELATED POSTS
Ice Cube, DJ Yella, Director F. Gary Gray & Cast Talk 'Straight Outta Compton's' Toughest Moments To Watch
NWA and 'Straight Outta Compton' Director and Cast Q&A
STRAIGHT OUTTA COMPTON New Character Movie Posters
Straight Outta Compton Red Band Trailer and New Movie Poster with Ice Cube & Dr. Dre Intro