Coming Soon
Details

Category: Coming Soon
Published: Wednesday, 06 April 2022 11:07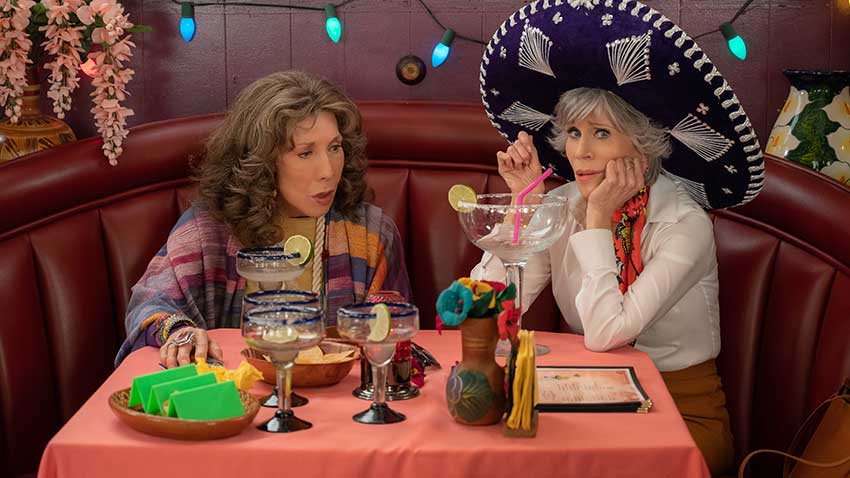 Grace and Frankie is Netflix's longest-running Netflix original series and the final season is upon us. Netflix released the first look images of Jane Fonda, Lily Tomlin, and the cast for season 7. Take a look.
Premiering on Netflix on April 29, the series returns for part 2 of Season 7. After 94 episodes, this marks the final chapter of Grace and Frankie's journey.
Watch all the prior seasons at www.netflix.com/graceandfrankie.

Final Season Synopsis:
Seven years ago, Grace and Frankie's lives turned upside down when their longtime husbands left them for… each other. Both sparring partners and partners-in-crime, Grace and Frankie formed an unlikely and unbreakable bond as they faced uncertain futures head-on, and hand-in-hand. They've laughed together, cried together, did shrooms together, and twice-over became successful entrepreneurs together. A history-making 94 episodes later, Grace and Frankie continue to show themselves, their families, and their fans what it means to live life to the fullest, fearlessly and unapologetically. Here's to seven seasons of laughs, tears, mood-enhancers, and good vibes. And, as Grace and Frankie would say, fuck it. This may be their final chapter, but they're just getting started.
About the Series
Season 7: Part 2 (Episodes 705 -716) Release Date: April 29, 2022
Season 7: Part 1 (Episodes 701-704): Previously released on August 13, 2021
Format: Scripted Comedy
Creators/Showrunners/Executive Producers: Marta Kauffman and Howard J. Morris
Executive Producers: Robbie Tollin, Hannah KS Canter, Jane Fonda, Lily Tomlin, Marcy Ross, Paula Weinstein, and Skydance's David Ellison, Dana Goldberg, and Bill Bost
Produced by: Skydance Television
Cast / Characters: Jane Fonda (Grace), Lily Tomlin (Frankie), Martin Sheen (Robert), Sam Waterston (Sol), Baron Vaughn (Nwabudike), Ethan Embry (Coyote), Brooklyn Decker (Mallory), June Diane Raphael (Brianna), Peter Cambor (Barry), Lindsey Kraft (Allison), Marsha Mason (Arlene), Tim Bagley (Peter), Peter Gallagher (Nick Skolka), Millicent Martin (as Joan-Margaret), Christine Woods (Jessica)
*We kindly ask that you please link back to www.netflix.com/graceandfrankie in your coverage.*