Coming Soon
Details

Category: Coming Soon
Published: Wednesday, 15 July 2015 23:04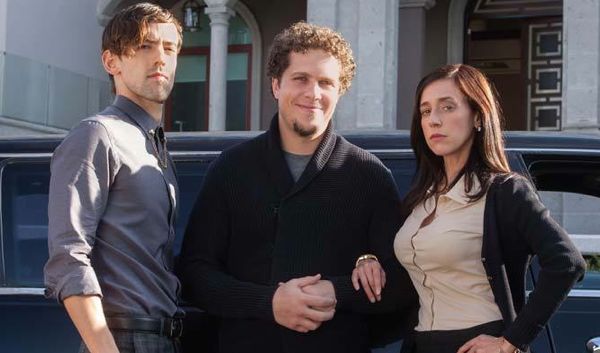 CLUB DE CUERVOS, the first Original series in Spanish language by Netflix debuted its official trailer. The 13 episodes of CLUB DE CUERVOS starts streaming August 7, only on Netflix.
From Mexican filmmaker Gaz Alazraki, when the patriarch of the prominent Iglesias family dies unexpectedly, his heirs engage in an outrageous battle to determine who will gain control of his beloved professional soccer team: The Cuervos of Nuevo Toledo. Balanced equally among comedy and drama, Club de Cuervos follows all the funny, sexy and dramatic action off the field and in the locker rooms. Egos, tempers, insults and soccer balls fly as the party boy brother, the work obsessed sister, a (possibly) pregnant girlfriend, the beleaguered team captain and everyone else in between all enter the pitch, all vying to score a personal goal.
CLUB DE CUERVOS stars Luis Gerardo Méndez as Chava Iglesias and Mariana Trevino, as Isabel Iglesias Reina and features Stephanie Cayo, Ianis Guerrero, Antonio de la Vega and Daniel Gimenez Cacho, as "Felix". Spanish translation below video
EN ESPAÑOL:
El trailer oficial de CLUB DE CUERVOS, la primer serie original de Netflix en Español ya esta aquí. No te pierdas los 13 episodios a partir del 7 de agosto, únicamente en Netflix

Cuando el patriarca de la prominente familia Iglesias fallece inesperadamente, sus herederos comenzarán una intensa batalla por el poder de su querido equipo de fútbol profesional: Los Cuervos de Nuevo Toledo. Balanceada entre comedia y drama, Club de Cuervos llevará a la audiencia desde la cancha a los vestidores de Los Cuervos. Egos, temperamentos, insultos y pelotas de fútbol volarán mientras el hermano amante de las fiestas y los excesos, la hermana obsesionada por el trabajo, una novia que está (posiblemente) embarazada, el capitán del equipo y todos los que se crucen por el camino, intentan anotar su propio gol en el marcador de la vida de Nuevo Toledo.

La serie está protagonizada por Luis Gerardo Méndez y Mariana Treviño, y también participan Stephanie Cayo, Ianis Guerrero, Antonio de la Vega y Daniel Gimenez Cacho, como "Felix"