Coming Soon
Details

Category: Coming Soon
Published: Sunday, 19 October 2014 22:13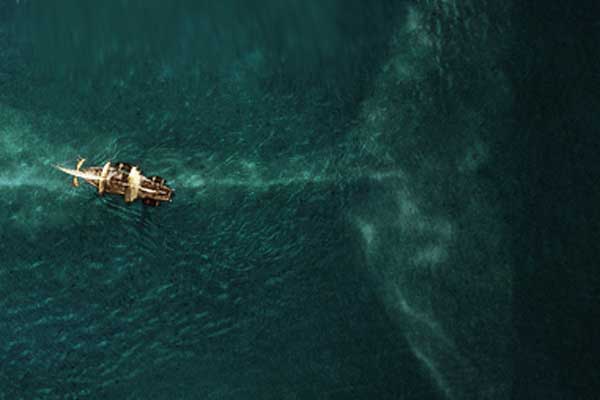 The true story behind Moby Dick comes to the big screen starring Chris Hemsworth and directed by Ron Howard. The two have reteamed IN THE HEART OF THE SEA for an intense adventure on the high seas against a whale.

Opening March 13, IN THE HEART OF THE SEA tells the true story of the New England whaling ship Essex in the winter of 1820 when they came across a whale of unheard size who seems to be out for vengeance against humans. IN THE HEART OF THE SEA is based on the best-selling book by Nathaniel Philbrick.

Oscar winner Ron Howard ("A Beautiful Mind") directs the action adventure IN THE HEART OF THE SEA based on Nathaniel Philbrick's best-selling book about the dramatic true journey of the Essex. The real-life maritime disaster would inspire Herman Melville's Moby-Dick. But that told only half the story. "In the Heart of the Sea" reveals the encounter's harrowing aftermath, as the ship's surviving crew is pushed to their limits and forced to do the unthinkable to stay alive. Braving storms, starvation, panic and despair, the men will call into question their deepest beliefs, from the value of their lives to the morality of their trade, as their captain searches for direction on the open sea and his first mate still seeks to bring the great whale down.




"In the Heart of the Sea" stars Chris Hemsworth ("The Avengers," "Rush") as the vessel's veteran first mate Owen Chase; Benjamin Walker ("Abraham Lincoln: Vampire Hunter") as its inexperienced Captain, George Pollard; Cillian Murphy ("The Dark Knight Rises") as second mate Matthew Joy; and Ben Whishaw ("Skyfall") as novelist Herman Melville, whose inquiries into the event 30 years later helped bring the story to light.

Tom Holland ("The Impossible") also stars as young seaman Tom Nickerson, and Brendan Gleeson ("Edge of Tomorrow") as the same man, 30 years later. Spanish actor Jordi Mollá ("Riddick") is the captain of another ship, the Archimedes, who tries to warn the Essex of what may lie ahead.

Howard directed from a screenplay by Charles Leavitt ("Blood Diamond"), story by Charles Leavitt and Rick Jaffa & Amanda Silver ("Rise of the Planet of the Apes"), based on the book In the Heart of the Sea: The Tragedy of the Whaleship Essex by Nathaniel Philbrick, winner of the 2000 National Book Award for Nonfiction.

"In the Heart of the Sea" is a Warner Bros. Pictures presentation, in association with Village Roadshow Pictures, a COTT Productions-Enelmar Productions, A.I.E. co-production, a Roth Films/Spring Creek/Imagine Entertainment Production, in Association with Kia Jam, a Ron Howard Film.

Official Site: http://intheheartoftheseamovie.com
Official Facebook: https://www.facebook.com/IntheHeartoftheSeaMovie
#IntheHeartoftheSea
<iframe width="700" height="394" src="//www.youtube.com/embed/Xs-JfPjgiA4" frameborder="0" allowfullscreen></iframe>