Win It!
Details

Category: Contests
Published: Monday, 02 June 2014 10:32
Written by Lupe R Haas
Page 1 of 2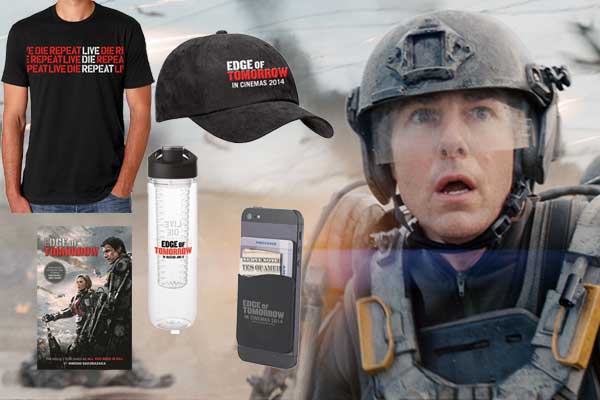 Even Tom Cruise is shelled shocked with this great movie giveaway. CineMovie is giving away a movie prize pack for Tom Cruise's EDGE OF TOMORROW with your chance at winning movie t-shirt, iWallet, hat, water bottle, movies passes and more.
The epic action of EDGE OF TOMORROW unfolds in a near future in which an alien race has hit the Earth in an unrelenting assault, unbeatable by any military unit in the world. Major William Cage (Tom Cruise) is an officer who has never seen a day of combat when he is unceremoniously dropped into what amounts to a suicide mission. Killed within minutes, Cage now finds himself inexplicably thrown into a time loop—forcing him to live out the same brutal combat over and over, fighting and dying again…and again. But with each battle, Cage becomes able to engage the adversaries with increasing skill, alongside Special Forces warrior Rita Vrataski (Emily Blunt). And, as Cage and Rita take the fight to the aliens, each repeated encounter gets them one step closer to defeating the enemy.
EDGE OF TOMORROW opens in 3D and 2D in select theaters and IMAX on June 6.
EDGE OF TOMORROW Official Site: http://www.edgeoftomorrowmovie.com/
One (1) grand prize winner will a prize pack that includes:
· 1 – EDGE OF TOMORROW Book
· 1 – EDGE OF TOMORROW One Sheet
· 1 – EDGE OF TOMORROW Live Die Repeat T-shirt
· 1 – EDGE OF TOMORROW Hat
· 1 – EDGE OF TOMORROW Water Bottle
· 1 – EDGE OF TOMORROW iWallet
· 1 (Admit Two) – EDGE OF TOMORROW Hollywood Movie Money*
Four (1) runner-up winners will receive the following:
· 1 (Admit Two) – EDGE OF TOMORROW Hollywood Movie Money
* Hollywood Movie Money is a free admission voucher to see a predetermined film (EDGE OF TOMORROW) redeemable nationwide starting 06/06/14 and valid for a limited time for use in any theater excluding AMC Theaters.
To enter the EDGE OF TOMORROW Movie Prize Pack Sweepstakes, click on the Entry Form below and your answer to the following question by watching the trailer.
In GODZILLA, this actor, who originally hails from the United Kingdom, stars as Ford Brody. His breakout role was as the young John Lennon in the 2009 film "Nowhere Boy". He also starred as the title role in "Kick-Ass" and "Kick-Ass 2." Name the actor.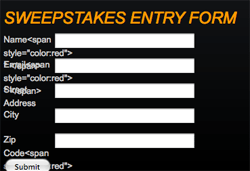 NO PURCHASE NECESSARY.
PROMOTION DESCRIPTION: EDGE OF TOMORROW Movie Prize Pack Giveaway ("Sweepstakes") begins on or about June 2, 2014 at 6:00 p.m. Eastern Time ("ET") and ends on June 8, 2014 at 11:59 p.m. ET (the "Sweepstakes Period"). At the end of the Sweepstakes Period, a random drawing will be conducted to select winners from among all eligible entries received, as more fully set forth in the OFFICIAL RULES. Entry in the Sweepstakes does not constitute entry into any other promotion, contest or sweepstakes. By participating in the Sweepstakes, each entrant unconditionally accepts and agrees to comply with and abide by these Official Rules and the decisions of CineMovie TV, 2700 Arlington Ave. Ste. 101 Torrance, CA 90501 ("Sponsor"), which shall be final and binding in all respects.