Details

Category: Interviews
Created: Sunday, 26 July 2015 14:12
Published: Sunday, 26 July 2015 14:12
Written by Ethan Falk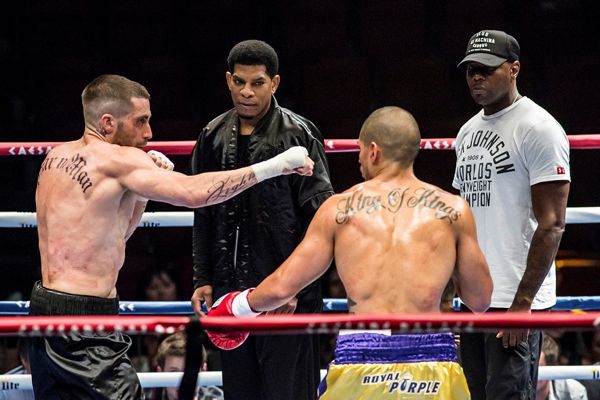 50 Cent, who plays Jake Gyllenhaal's smooth talking manager Jordan Mains in SOUTHPAW tells CM he thinks Jake can last five rounds in the ring against boxer Manny Pacquiao after seeing Jake's transformation for the movie.
50 Cent was one of many stunned by Jake Gyllenhaal's physical transformation for SOUTHPAW. 50's involvement in the boxing world doesn't just take place on screen. The rapper developed a boxing promotion company in 2012 named SMS Promotions and also pals around with champion Floyd Mayweather from time to time. After chatting with "50" about the bling on his wrist and his flashy shoes, we decided to put his boxing expertise to the test.
CM: After watching Jake train, I'm going to name 2 boxers. Tell me how many rounds Jake could last in the ring with them—Manny Pacquiao?

50 Cent: He (Jake) was a dog. This is the highest level of fighting. You're putting him against the best fighters in the world. 'God damn, whats wrong with you?' he joked. I'd say 5 or 6 rounds.

CM: Now, Floyd Mayweather.

50 Cent: He would go 12 with Mayweather no matter how sh*t goes. Floyd ain't going to knock him out. He's just going to box the sh*t out of him.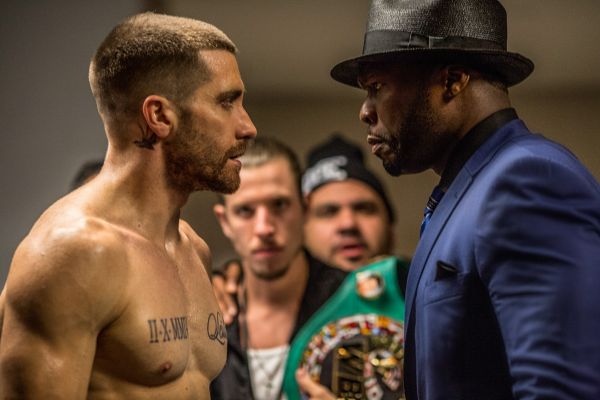 CM: Can we look forward to seeing Jake in one of your future rap videos?

50 Cent: Probably not. I did get him to do the cover of Vibe Magazine though. I got De Niro to do it before him, so it would be easier to get him to do it.
Jake Gyllenhaal delivers a knockout performance in SOUTHPAW, which is now playing.
RELATED ARTICLES
SOUTHPAW Trailer Featuring Eminem and Gwen Stefani Song, 'Kings Never Die'
50 Cent Talks 'Spy,' Beef with 'Empire' and New G-Unit Album