Details

Category: Interviews
Created: Thursday, 18 May 2017 23:12
Published: Friday, 19 May 2017 13:23
Written by Lupe R Haas
For some actors, a new role is often just another paycheck, but for ALIEN: COVENANT star Jussie Smollett of EMPIRE fame, a part in a Ridley Scott ALIEN film fulfilled his fan-boy side. CineMovie test Smollett's knowledge of the ALIEN franchise, and why he was nerding out alongside director Ridley Scott.
Best known for playing Jamal Lyon on the FOX hit show, EMPIRE, Smollett purposely wanted to use his hiatus to expand his acting in a project completely different from his television persona. You won't see him busting out a tune in another galaxy in this sci-fi flick.
"I still want to show I can do other things. That's important to me," says the 34-year-old actor. "I just want to do good work."
Not only was it an opportunity to broaden his acting resume, but booking an ALIEN movie had much more significance on a personal level. The Santa Rosa, CA native first experienced an ALIEN movie with his older brother who was charged with babysitting the 8-year-old. The older Smollett went to Blockbuster and rented two movies forbidden by their parents. One of them was BOYZ IN THE HOOD and Ridley Scott's ALIEN (1979). He remembered being frightened by the movie but it had a lasting effect.
"ALIEN was everything. We'd walk around quoting the movie for a week straight."
The EMPIRE star also became popular with his younger brother who was so excited about the film, he flew to Los Angeles for special screening and then returned to the Northern California the same day.
When he booked ALIEN: COVENANT he was stoked to be part of the franchise that takes him from the mean streets of the music world to outer space.
"It's kind of crazy, right. It's EMPIRE STRIKES BACK. It's very cool. I'm excited."
The ALIEN: COVENANT actor was relieved when he found out he wouldn't be faking the fright opposite a tennis ball. While technology has advanced with motion capture suits, Scott went old school using stunt men in alien costumes as done in the original movies. The actor explains a 7 foot stunt man suited up in a 10 foot alien outfit for his shower scene.
"It looked way too real. It was just insane. It felt very ….it was a little frightening. It was also an honor to be in … You know that it's awesome. Life is great if you get to be in a shower scene in ALIEN with Ridley Scott. You know something is about to happen."

Video: Demian Bichir Talks 'Alien: Covenant' and Going Into Space For Real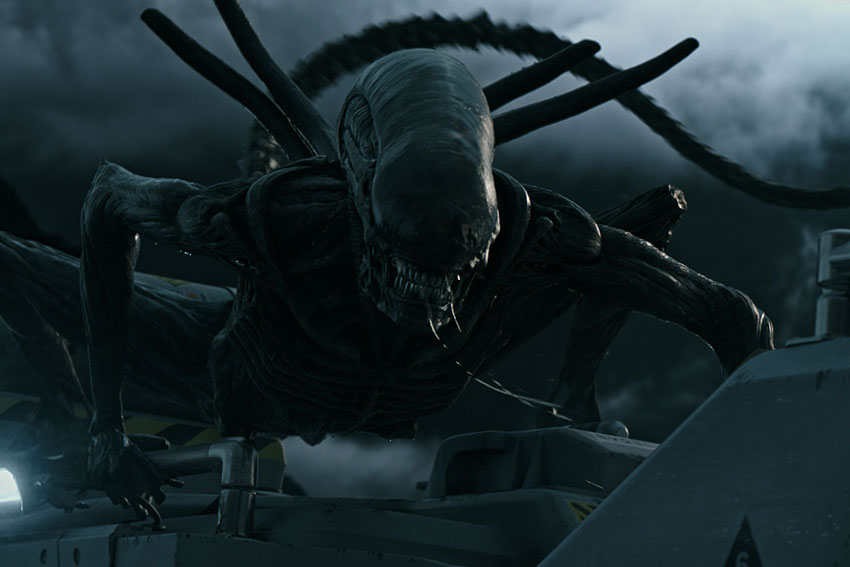 Now that we've established Smollett is an ALIEN fan, we test his knowledge with some very easy questions.
CM: In space, no one can you _________

Smollett: Scream

CM: Correct! What do you call the Aliens

Smollett: Xenomorphs?

CM: That's right. How many movies in the ALIEN franchise including this one and Prometheus?

Smollett: Would that include ALIEN VS PREDATOR?

CM: Yes.

Smollett: 6?

CM: Close 7. (We goofed. There's 8 counting two ALIEN VS PREDATOR movies.)

Smollett: Ah, man! I didn't do so bad.

CM: You definitely get a passing grade.
Of course, we couldn't end our interview without asking Smollett about the season finale of EMPIRE Wednesday, May 24. Here's what he says we can expect from the dueling family power play.

"We finally get to see the Lyons realizing that they've got to stop all this petty in-fighting.
There's still be drama. There still be death. Cookie one liners.It's time for the Lyons to come together. They're left with no other choice."
Get a double dose of Jussie Smollett in ALIEN: COVENANT starting this weekend and in EMPIRE's season finale next week.