Details

Category: Interviews
Created: Wednesday, 07 May 2014 17:41
Published: Wednesday, 07 May 2014 17:41
Written by Lupe R Haas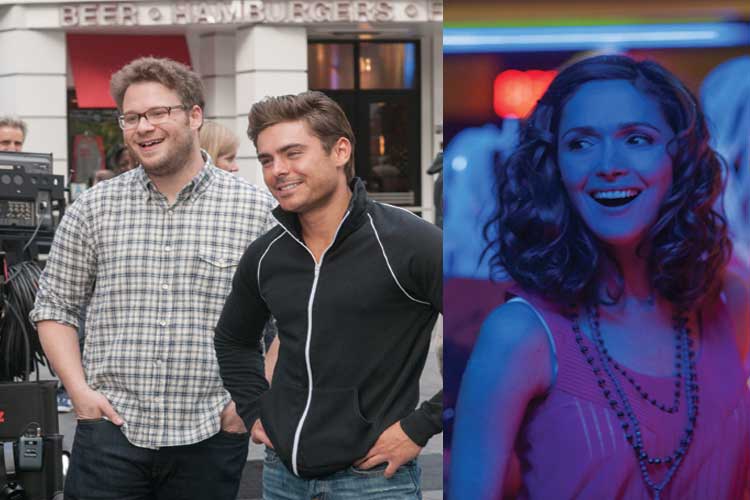 NEIGHBORS stars Seth Rogen, Zac Efron and Rose Byrne talk about behaving badly for their roles, and why Efron spent so many scenes shirtless in the hilarious comedy opening May 9th.
One of the most anticipated films of the year, NEIGHBORS offers a enjoyable new spin on adult comedies. From director Nicholas Stoller (Get Him to the Greek), the festival hit stars Seth Rogen and Rose Byrne as new parents who discover that a frat house (run by Zac Efron) has been set up next door. Is isn't long before the couple, who are having a hard time adjusting to adulthood, find themselves going up against energetic partiers--while trying to accept that their days of being carefree are behind them.
At the New York press conference for the film--Rosen, Efron and Byrne were on hand to discuss the atmosphere on set, the most outrageous scenes to shoot and if their characters reflect elements of themselves.
Q: Rose, did you feel a responsibility to bring in female viewers and (for the guys) what was it like going toe-to-toe with this incredible character?

Seth Rogen: It was tough going toe-to-toe with this incredible character. She was great. Those scenes were so much fun to do. I feel like we were a good team in the movie and a good pairing.

Rose Byrne: We wanted to not make her the usual stock female character. (She's not) the nagging wife, she's just as irresponsible as the rest of the characters.

Zac Efron: As a girl, it really brought me in. [Laughs]

Q: Do you have any horrible neighbor stories of your own?

Rogen: My current neighbor I don't like. He's been building his house for two years, and it starts at seven-thirty every day. My method of dealing with it is I scream at him every three months. It doesn't make anything better.

Q: What were your favorite scenes in the movie?

Byrne: I love the Abercrombie & Fitch scene. Finally, someone's put that on film. I thought it was an excellent parody.

Rogen: The scene where Rose seduces the teenagers, I thought was really funny. I've seen the movie with different audiences and they unanimously go ape shit when Rose walks away having laid waste to the children.

Efron: Even the studio execs.

Rogen: And they're not humans. [Laughs]

Efron: My fondest memory of shooting was the Batman scene. I had a lot of fun that night.

Rogen: It kind of captures the small but vast generational divide between people by age and people (Zac's) age.

Q: Could you describe what kind of neighbor you are?

Byrne: I'm very quiet.

Rogen: I'm generally good — except every three months I will scream at you for building by my house.

Efron: My neighbor is Charlie Day from "Always Sunny…" and he has a new family and a really sweet wife.

Rogen: It's just like the movie.

Efron: I'm trying to assure him that's not the case. We actually get along. He's a nice guy.

Q: If you could bring back the old days of double features, which films do you think could play alongside "Neighbors"?

Rogen: I think "Animal House" or "Revenge of the Nerds"…and "Gone with the Wind." (Laughs)

Q: At what point of your lives did you realize that comedy was right for you?

Rogen: I started doing standup when I was 12 years old, so I always thought I was hilarious. It took 15 years to make anyone agree with me.

Efron: Right about now.

Q: Could each of you speak on working with director Nicholas Stoller?

Byrne: It was my second time working with him. I did "Get Him to the Greek" with Nick and he's just a pleasure to work with. He's very collaborative and there's a sense of calm about him most of the time. We shot this very quickly and not on a big budget.

Rogen: It was very organized. He had a shot list everyday and he would cross off the shots that we got. (Laughs) He's really enthusiastic. He laughs really loud, he'll like ruin shots by laughing sometimes. That's very encouraging. It keeps you going.

Q: Zac, you and Seth both have shirtless scenes in this. What was it like to get ready for those scenes, especially in the end when you go side to side…shirtless.

Rogen: (To Zac) Were you intimidated at all?

Efron: That wasn't in the script. At that point, the cameras just rolled and Seth took his shirt off. I didn't know that was going to happen.

Rogen: I think I thought of it that morning when I was driving to work.

Efron: It was fun. They would just snap their fingers and I knew what it meant, 'Zac take your shirt off'. I was reluctant at first but then by the end...

Rogen: He didn't even have a shirt in the budget.

Efron: They just stopped bringing them to my trailer.

Q: How long did it take you to get through the breast milking scene?

Rogen: That was based on (screenwriter) Brendan O'Brien's friends. They were driving back from the Coachella music festival, the pump broke and the husband had to milk her on the side of the road. So that shit happens!

Q: Do you prank one another on set?

Rogen: Thank God no one pranked anybody. Whenever I hear those stories, "George Clooney pranks people on set," I'm always like, "What a fu***ng nightmare."

Efron: The furthest thing from everyone's mind was pranking.

Q: Zac, more than anyone else, you got to work with Jerrod Carmichael, the new kid on the block. What is it that makes you say, "This kid has what it takes."

Rogen: He's endlessly winning.

Efron: Yes. You want to be around him. He's really sweet and charming as a person. He's got a really funny outlook. It's positive but…he's witty. What's wrong with Jerrod?

Rogen: Nothing. (Laughs) I was a big fan of his stand up. We were excited to get him in the movie in some capacity. I know he's doing an HBO special that Spike Lee is directing in the next few weeks, so he will be very very famous soon. It's nice we got him for cheap. He's amazingly driven and sweet, literally one of the nicest people I've ever met in my entire life.

Q: Were there any scenes that were so funny, you had a hard time getting through them?

Byrne: It was pretty funny when we were discussing going over and talking to the frat. That was ridiculous.

Rogen: It kept getting weirder and weirder.

Byrne: The Robert De Niro scene was funny.

Rogen: I couldn't stop laughing at Dave Franco.

Q: Can you speak a bit about the changes your characters go through?

Rogen: I think we're slightly more accepting of our roles as parents than we are at the beginning of the movie. We don't have the same longing for those youthful activities. It's pretty simple.

Efron: At the beginning of the movie, I think Teddy is in his element and at the end he's at Abercrombie & Fitch.

Rogen: He's been humbled.

Efron: He's been humbled. (Laughs)

Q: How important is it for you to do a role that affects where you are personally?

Efron: The second I heard about Teddy, I knew this guy and where he was at. To some degree, I've sort of felt these feelings in some way. I knew how to harness the brother camaraderie to the point where it kind of makes you crazy. That was the cool part of Teddy and part of making his insanity come from a good place was initially tricky. It's eccentric but this is how young guys are sometimes. I know because I was there. There's a brotherly bond that is really romantic at times.

Rogen: As an actor, it's less important to feel a personal element for a role. But as a producer, it's nice. If we're going to spend years working on something, which as a producer, you do eventually — it's nice to have strong personal connection to the movie, something you relate to and keeps you going on it. I couldn't imagine­ working on some spy thriller for years that I had no real connection to.
NEIGHBORS opens this Friday, May 9th.