Details

Category: Interviews
Created: Wednesday, 22 January 2014 17:11
Published: Wednesday, 22 January 2014 17:11
Written by Lupe R Haas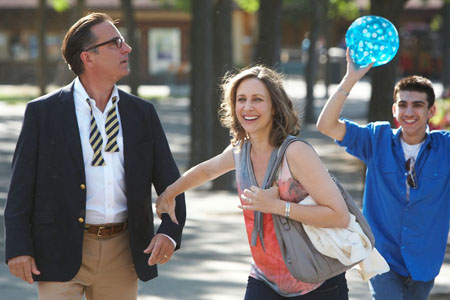 After taking on dark roles in 2013 with The Conjuring and Bates Motel, Vera Farmiga is going for laughs in her latest film AT MIDDLETON starring with Andy Garcia and her real-life sister Taissa Farmiga (American Horror Story: Coven). She's telling us why it wasn't a stretch playing mother to Taissa and why she was inspired by Carol Burnett and Lucille Ball for this role.
Vera Farmiga plays Edith in AT MIDDLETON who takes her daughter (Taissa Farmiga) on a college admissions tour where she meets another single parent (Andy Garcia). After their college-bound kids banish them from the tour, the two goof off on campus and rediscover themselves.
In a sit down with Farmiga, the Bates Motel star talks about juggling her roles as wife, mother and actress, and why she was glad to take this role which is a departure from her previous work with dark subject matter.
Q: How was it working with Andy and your sister Taissa?

VERA: I didn't even do rehearsals. I had a one and a three year old at that time and just came off from doing The Conjuring. I was depleted and terrorized by researching negative mysticism and I just wanted to do something fun. Then I met Andy and he's so debonair. He's such a first class guy. We met at a costume meeting.

The thing with Taissa and having her play my daughter… it's so relevant to who we are to each other and who we have been to each other. She's a surrogate daughter of mine, I like to think that I modeled for her what it means to take risk and be optimistic and what's scary and what's not. It was also a time in life where she was just turning 18 and she just had a certain measure of success on Higher Ground and was given so much opportunity and I could see her just fluttering away from me and at the same time needing me. She still does. She was at the Golden Globes and she was texting me "who is Warren Beatty." She also said she Googled him but I have a meeting with him at 8:30 so can you give me the low down. So she still needs me but this is the least quality time I've spent with her because she's been off in New Orleans. She's the last of my mom's seven children, so I'm seeing that empty nest syndrome unfold and Taissa wanted her time on set and my mom is not a stage mom, she never was but she was a chaperon for Taissa. But I do see Taissa condemning my mom to trailer life and not allowing her to set because it's that time of her life to expand and grow. It's that transition time where parents have to learn to let go of their kids and kids have to learn to let go of their parents. So I was witnessing my mom and Taissa going through it as well as going through it myself because this was my kid sister who used to babysit for me.

Q: Where did the inspiration come from for your character?

VERA: Carol Brunette and Lucille Ball. All these physical comedians have always delighted me and I think it's really interesting that the great contradiction of Edith is that she's so care free but the first profound truth that she admits is that she's profoundly unhappy. The contrast of being so carefree and being hampered because of how you've chosen on how to live life or not live it.

Q: Can you talk a bit about the piano scene?

VERA: Andy is a Jazz pianist so he improvises everything. I, on the other hand, I'm very studious. I'm more like George Hartman naturally, I think, and I think Andy is more like Edith and our college testimonies would attest that we're opposite. Arturo Sandavol wrote this version of Chop Sticks and became this complicated duet. I wish you guys could see the words for the scene because it's all written to every detail and gesture. It might seem improvisational, but I can't take credit for it because it was all written.

Q: If you were able to go back to college what would you do or not do?VERA: I don't know. I was such a square in college. I actually never went on a campus tour of my school. I didn't do it when I went to Syracuse but I did go to Elizabeth Town college with my mom when I thought I was going to be a music therapist. Then I thought I was going to be an optometrist. At Syracuse it was a last minute switch to study acting in senior year. I just decided to take the fork in the road. I was playing varsity soccer and I was benched and had my heart broken in the same week so one of my best friends encouraged me to audition for the school play and I got the lead role and from there I was just encouraged to do it. If my professors in New Jersey hadn't told me that I should reinvestigate what I want to do, I don't know what I've would have done.Q: What's one of the biggest challenges juggling wife, mother and career?VERA: It's just flat out challenging. I like to think of myself as a 100 percent mother and wife and it's the most demanding and challenging and the most gratifying role that I can ever play. Right now I consider myself to be a full-time mom, and career, after having had kids, is like second and it comes second. Sometimes I feel...because of my commitment to maternity and wifery....I'm not as prepared as I could be. I feel like I just wing it these day and I wing it to the best of my ability and it certainly deepens my work. It's just not the same as a priority.
AT MIDDLETON opens January 31, 2014.