Details

Published: Tuesday, 24 November 2020 16:26
Written by Lupe R Haas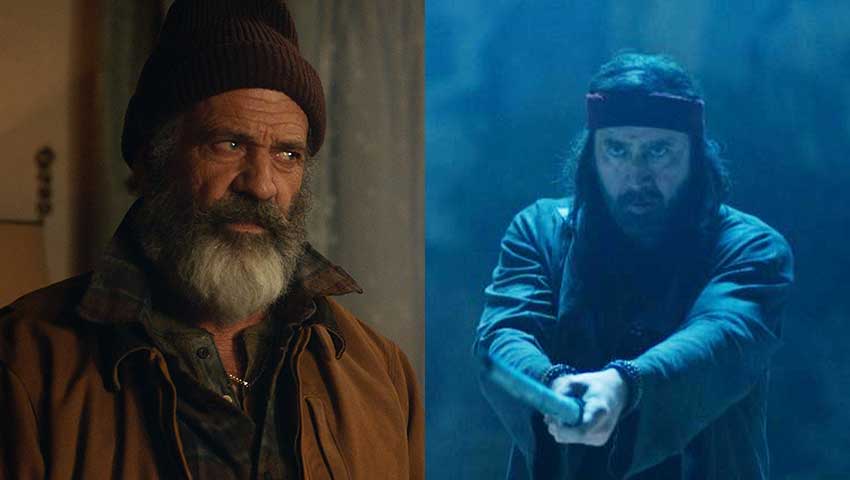 Tons of new movies this week features men leading the charge at the movies. Mel Gibson (FATMAN) and Nicolas Cage (JIU JITSU) return in action flicks while Dev Patel (A PERSONAL HISTORY OF DAVID COPPERFIELD), Marc Marron (STARDUST) and Riz Ahmed (SOUND OF METAL) go the indie way with smaller but effective fair. SOUND OF METAL by new visionary Darius Marder is my pick of the week. How do the other movies stack up? Check out the video reviews below.
FATMAN with Mel Gibson & Walter Goggins 🤷🏻‍♀️
In Theaters / On Demand
To save his declining business, Chris Cringle (Mel Gibson), also known as Santa Claus, is forced into a partnership with the U.S. military. Making matters worse, Chris gets locked into a deadly battle of wits against a highly skilled assassin (Walton Goggins), hired by a precocious 12-year-old after receiving a lump of coal in his stocking. 'Tis the season for Fatman to get even, in the action-comedy that keeps on giving.
Directed By: Eshom Nelms, Ian Nelms
Written By: Eshom Nelms, Ian Nelms
Cast: Mel Gibson, Walton Goggins, Marianne Jean-Baptiste
Run Time: 99 minutes
Genre: Action, Dark-Comedy
Rating: R for bloody violence and language
JIU JITSU with Nicolas Cage, Frank Grillo, Tony Jaa 😏
Every six years an ancient order of expert Jiu Jitsu fighters faces a fearsome alien invader in a battle for Earth. For thousands of years, the fighters that protect Earth have played by the rules...until now. When Jake Barnes, a celebrated war hero and master Jiu Jitsu fighter, refuses to face Brax, the indomitable leader of the invaders, the future of humanity hangs in the balance. Injured and suffering from severe amnesia, Jake is captured by a military squad unequipped to fight the merciless intruder who have descended upon the planet. After a brutal alien attack on the military squad, Jake is rescued by Wylie (Nicolas Cage), and a team of fellow Jiu Jitsu fighters who must help him recover his memory and regain his strength in order to band together and defeat Brax in an epic battle that will once again determine the fate of mankind.
Cast: Nicolas Cage, Tony Jaa, Frank Grillo, Rick Yune, Alain Moussi (KICKBOXER: RETALIATION)
THE PERSONAL HISTORY OF DAVID COPPERFIELD with Dev Patel, Tilda Swinton, Hugh Laurie, Peter Capaldi, Benedict Wong
Director Armando Iannucci re-imagines Charles Dickens' classic ode to grit and perseverance through the comedic lens of its award-winning filmmakers— giving the Dickensian tale new life for a cosmopolitan age with a diverse ensemble cast of stage and screen actors from across the world. Emmy® winners and Oscar® nominees Armando Iannucci (IN THE LOOP, THE DEATH OF STALIN, HBO's Veep and Avenue 5) and Simon Blackwell (IN THE LOOP, HBO's Succession) lend their wry, yet heart-filled storytelling style to revisiting Dickens' iconic hero on his quirky journey from impoverished orphan to burgeoning writer in Victorian England.
Cast: Dev Patel, Aneurin Barnard, Peter Capaldi, Morfydd Clark, Daisy May Cooper, Rosalind Eleazar, Hugh Laurie, Tilda Swinton, Ben Whishaw, Paul Whitehouse, Gwendoline Christie, Anthony Welsh, Benedict Wong
STARDUST with Marc Marron, Jena Malone Johnny Flynn 🥱
Meet David before Bowie. One of the greatest icons in music history. But who was the young man behind the many faces? In 1971, a 24-year-old David Bowie (Johnny Flynn) embarks on his first road trip to America with Mercury Records publicist Ron Oberman (Marc Maron), only to be met with a world not yet ready for him. STARDUST offers a glimpse behind the curtain of the moments that inspired the creation of Bowie's first and most memorable alter ego, Ziggy Stardust, capturing the turning point that cemented his career as one of the world's greatest cultural icons.
Directed by: Gabriel Range
Written By: Gabriel Range and Christopher Bell
Starring: Johnny Flynn (EMMA.; CLOUDS OF SILS MARIA)
Marc Maron (GLOW; SWORD OF TRUST)
Jena Malone (THE NEON DEMON; INHERENT VICE)​
SOUND OF METAL with Riz Ahmed, Olivia Cooke 💋👍🏼
During a series of adrenaline-fueled one-night gigs, itinerant punk-metal drummer Ruben (Riz Ahmed) begins to experience intermittent hearing loss. When a specialist tells him his condition will rapidly worsen, he thinks his music career — and with it his life — is over. His bandmate and girlfriend Lou (Olivia Cooke) checks the recovering heroin addict into a secluded sober house for the deaf in hopes it will prevent a relapse and help him learn to adapt to his new situation. But after being welcomed into a community that accepts him just as he is, Ruben has to choose between his equilibrium and the drive to reclaim the life he once knew. Utilizing startling, innovative sound design techniques, director Darius Marder takes audiences inside Ruben's experience to vividly recreate his journey into a rarely examined world.
Directed by Darius Marder
Written by Darius Marder, Abraham Marder
Starring Riz Ahmed, Olivia Cooke, Paul Raci, Lauren Ridloff, Shaheem Sanchez, Chelsea Lee, Jeremy Stone and Mathieu Amalric