Details

Published: Monday, 23 August 2021 18:02
Written by Lupe R Haas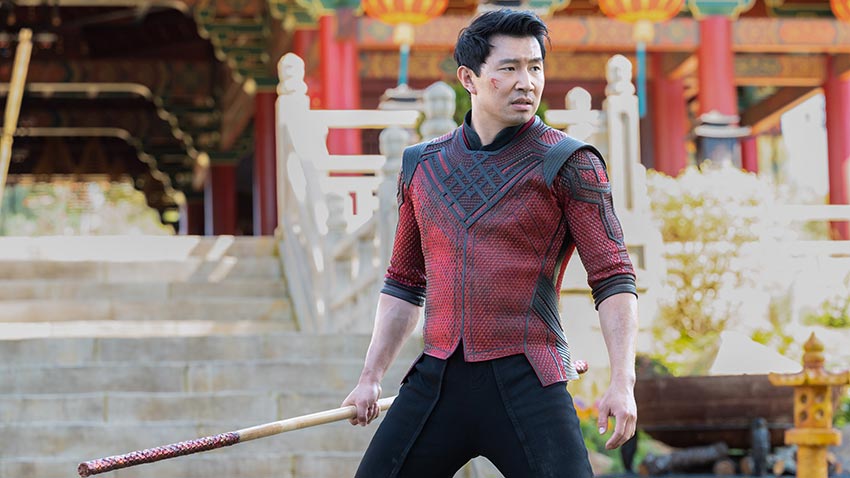 SHANG-CHI AND THE LEGEND OF THE TEN RINGS is so beautifully crafted, the Marvel movie will leave you wanting to see it again and again. Simu Liu is perfectly cast as the MCU's newest Avenger as one who exudes heart, humor and kick-ass martial arts skills. Tony Leung as the real Mandarin also steals the show and rights past MCU wrongs. SHANG-CHI is a very different sort of MCU film and a welcome one to kick off the next phase in the MCU.
Marvel brings to life another lesser-known comic book character with SHANG-CHI played by Kim's Convenience actor Simu Liu. The origin story sets up the future MCU superhero. Shang-Chi who goes by Sean must confront his past when his father seeks to bring him back into the mysterious Ten Rings organization.
SHANG-CHI AND THE LEGEND OF THE TEN RINGS also stars Awkwafina as Katy, Michelle Yeoh as Yin Nan, Tony Leung as Xu Wenwu aka the Mandarin as well as Benedict Wong, Meng'er Zhang, Fala Chen, Florian Munteanu and Ronny Chieng.
Director Destin Daniel Cretton (SHORT TERM 12, JUST MERCY) helms his first action feature but his indie filmmaking background is evident in the very personal nature of the action movie. Not only is it filled with great action and martial arts sequences but the family drama behind it drives the story rather than relying on the usual narrative of saving the world.
Cretton brings a very spiritual aspect to SHANG-CHI around the martial arts that has been sorely missing from recent cinematic experiences. The Asian art form has always been about the Mind, Body and Spirit, and Cretton's film reminds you of that. The fight sequences are grounded in martial arts movements rather than relying on CGI for exaggerated moves. The movements were like a ballet dance, and very reminiscent of work in CROUCHING TIGER, HIDDEN DRAGON.
The director also balances the humor, action and character development. Cretton and his co-writers Dave Callaham and Andrew Lanham take the time to introduce the characters including Leung as the villain and head of the Ten Rings which will make him a fan favorite. Cretton also avoids falling into tropes by keeping Shang-Chi and Katy's relationship platonic.
The origin story progresses at a good pace. Shang-Chi starts out as a rather ordinary man with no plans for his future as he goofs around with his pal and best friend Katy (Awkwafina). We don't know he's special and skilled in martial arts until he's attacked on a bus. From there on, he relies on the fighting skill learned at his father's Ten Rings organization as a child. He doesn't obtain super powers until later in the story which will play a big role in Phase 4 of the MCU.
The cast is exceptional. Simu Liu brings charm and heart to SHANG-CHI. Fans of his Netflix series, Kim's Convenience won't be so surprised at his ability to bring those qualities to the MCU. The Asian-Canadian's talent extends to his physical capabilities as a martial artist.
Leung is a stand out delivering a layered performance as the villain. Awkwafina as expected is the comedy relief but not the only one. Meng'er Zhang also brings the physicality with some killer moves that rival Shang-Chi.
This being the first MCU hero of Asian-descent, SHANG-CHI is a great example of how films about POC should be approached. Hiring POC behind and in front of the cameras makes a difference. While the culture is beautifully portrayed, it's done so with universal themes for anyone to relate to. That includes touching upon the bicultural background of two of the characters such as their Chinese name versus their Americanized name which is a very real thing with anyone growing up in two cultures.
SHANG-CHI AND THE LEGEND OF THE TEN RINGS is far from perfect but it's close. There are minor holes in the story that don't make sense but they don't make a difference.
POTENTIAL SPOILER
If you're keeping up with SHANG-CHI news, you already know that Sir Ben Kingsley reprises his role as actor Trevor Slattery, the Mandarin imposter from IRON MAN 3. His re-introduction into the MCU is hilarious and appropriate in making amends for what many fans felt like a slight to comic book fans in the IRON MAN movie. Fans will get a kick out of his appearance and forgive Marvel for their faux pas.
Let's talk about those post-credit scenes. There are two, and the first one reveals something very shocking that requires some sort of explanation from comic book experts. No doubt you'll see tons of reaction videos post-release addressing the introduction of something new involving a fan favorite.
The second post-credit scene also introduces another possible direction for Phase 4 of the MCU, and a new threat.
What you get from SHANG-CHI AND THE LEGEND OF THE TEN RINGS is a very satisfying cinematic experience that satisfy all senses, and a need to see it again.