Details

Category: New at the Movies
Published: Tuesday, 14 February 2012 14:14
Written by Lupe Haas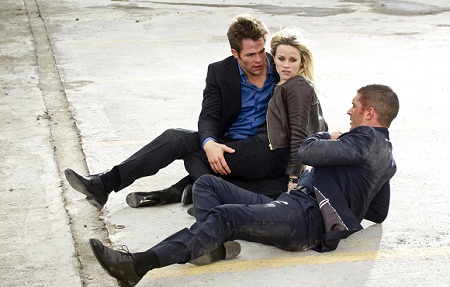 What better way to celebrate Valentine's Day with two guys fighting over Reese Witherspoon. That's Reese Witherspoon's dilemma in THIS MEANS WAR, a Valentine's Day release starring The Dark Knight Rises' Tom Hardy and Star Trek's Chris Pine as CIA operatives head over heels over the same woman. In this clip, the two settle who gets the girls with a fist fight at a restaurant.
THIS MEANS WAR opens in movie theatres on a Tuesday in time for Valentine's Day. The romantic comedy stars the two hunks vying for Reese Witherspoon's attention. Tom Hardy and Chris Pine play CIA operatives who use their spy tactics to outwit each other in a game over who gets the girl.

Chelsea Handler and Angela Bassett also star in the movie.


Do you think this makes for a good date night movie?