Details

Category: Photo Galleries
Published: Thursday, 31 March 2016 08:43
Written by Lupe R Haas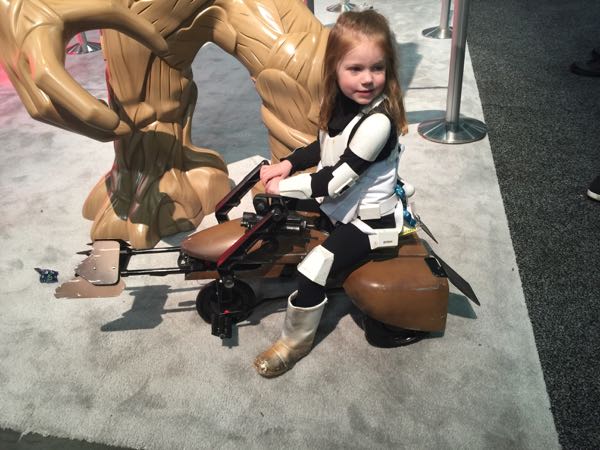 You expect to see grown adults dressed in their favorite superhero or movie character at Comic Con and Wondercon, but a few parents involved their children in the cosplay at this year's WonderCon 2016 in Los Angeles, and the results are downright adorable. Check out some of the costumes and accessories these little kid's parents came up with. As the saying goes, family that nerds together, stays together.
This year at WonderCon 2016, the popularity of Star Wars: The Force Awakens was evident at the fan event. One little girl donned a stormtrooper outfit (above) on a speeder bike her father restored. Another little girl was putting on a show in a BB-8 perfectly-made costume made by her father complete with a thumbs up lighter. A teen dressed up as Rey along with an older gentleman as Kylo Ren posed for pictures for WonderCon attendees.
The Alien and Mad Max franchises have also left a legacy of their own. A mom outfitted her son as an alien for a mini version of the movie monster, while a mom and son took on characters from George Miller's Mad Max: Fury Road as Rose Huntington-Whiteley's pregnant character and a mini-me Nux. Hope they didn't spray the poor child's mouth with silver paint.
Of course, adults were creative especially a Mexican version of Captain America. See the adult cosplay as well below in our WonderCon 2015 cosplay photo gallery.